Hets (Frenzy) (Torment)
(1944)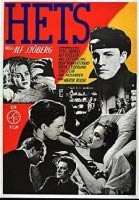 Tickets & Showtimes
Hets (Frenzy) (Torment) Trailers & Photos
Movie Info
The Swedish-language picture Torment (AKA Hets, 1944) marked one of the first credited screenwriting efforts of the then 26-year-old scenarist Ingmar Bergman, and one of the broadest international successes of the gifted Swedish director Alf Sjöberg; it also launched the onscreen efforts of two young Scandinavian actors, Alf Kjellin and Mai Zetterling. This tragic drama concerns the ill-fated romance between student Jan-Erik Widgren (Kjellin) and Bertha Olsson (Zetterling), a slightly older, alcoholic widow who works at a tobacco store, and whom Jan-Erik meets when he discovers her unconscious in the street. The premise of the film finds Jan-Erik struggling valiantly to maintain his ongoing sexual affair with Bertha, while grappling, on the side, with the machinations of a sadistic and abusive professor, Caligula (Stig Jarrel. Events take an ugly turn when Jan-Erik discovers that Bertha is actually Caligula's lover - setting the stage for tragedy on the night of her booze-soaked orgy with the old man. Ultimately, both lovers are relentlessly victimized by the professor's doings. The cast also includes: Olof Winnerstrand, Hugo Bjorne, Stig Olin, Olav Riego, Marta Arbin and Nils Dahlgren. ~ Nathan Southern, Rovi
more
Cast
News & Interviews for Hets (Frenzy) (Torment)
Critic Reviews for Hets (Frenzy) (Torment)
Audience Reviews for Hets (Frenzy) (Torment)
Nov 2010 - I liked the expressionist style of the movie. The torment that is visible in the pictures, actings and the lights. The story however is not as good as I expected. Caligula is an interesting character and twisted but his portrayal remains suspended between a surrealist aspet of a horror movie and a realistic psychological drama.
I have seen two Ingmar Bergman films to date, so I have decided to start from the beginning of his filmography (his first produced script, not a film he directed) and work through his career. Torment is a surprisingly entertaining piece about a schoolboy who is tormented by his latin professor, and finds solace in an alcoholic clerk girl. The movie is quite fascinating and dark, and hints at the genius that is about to emerge from the young screenwriter (only 26 when this was made).
Discussion Forum
Discuss Hets (Frenzy) (Torment) on our Movie forum!
News & Features