The Twelve Chairs
(1970)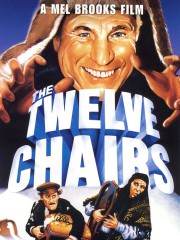 Movie Info
In this farce, a civil servant discovers that he is heir to a vast fortune, which is hidden in one of a set of twelve chairs. Unfortunately, the chairs have been scattered to locations unknown, and the man must compete with a greedy priest in his quest for the riches.
more
Cast
News & Interviews for The Twelve Chairs
Critic Reviews for The Twelve Chairs
Audience Reviews for The Twelve Chairs
An art house late night weekend favorite back in the day (like Rocky Horror), a dying woman tells of a hidden treasure --- setting off a crazy cross-country race for the loot played for yucks. Sound familiar? Like Its A Mad, Mad, Mad, Mad World (made 7 years prior)? Well it IS different. This chase is through post revolutionary Russia! Expect jokes about how well communism was not working, comrade. An early effort by Brooks that has some smiles in it. Hope for the best ... ( expect the worst ).
Ippolit Vorobyaninov: You're not worth spitting on!
Father Fyodor: Oh yeah? Well, you are!

Mel Brooks' second film, which involves three men all trying to get rich quick in communist Russia. A different sort of film from Brooks, which may not be as much a laugh riot as some of his others, but has a fun story and is well acted throughout.

Ron Moody is Vorobyaninov, an ex-nobleman trying to find the family jewels that his dying mother told him was hidden in one of their old fancy chairs. A very young Frank Langella enters the scene as an attractive drifter, who becomes a part of the plot to find the jewels as well, forming a sort of team with Vorobyaninov. Also entering the scene is Dom DeLuise as Father Fyodor, who is less than faithful to the lord when he too learns of the jewels to be found.

The story is very simple, but effective. It's a fun comic adventure, putting all three characters at odds with each other and leading to a lot of funny scenes. Certainly different types of humor at play, with Moody playing it fairly dry, Langella serving mainly as the straight (and very tall) man, and DeLuise offering up plenty of physical comedy.

Brooks manages to pop up in a small role as well, playing Moody's former servant, and he's of course a lot of fun. He also manages to bring a lot of his style humor to the film via many visual gags, which mostly poke fun at the setting of communist Russia.

Not much more to say beyond the fact that the film is short and sweet and I laughed.


Nikolai Sestrin: I hate people I don't like.
The Twelve Chairs Quotes
Discussion Forum
Discuss The Twelve Chairs on our Movie forum!
News & Features