Deranged
(1974)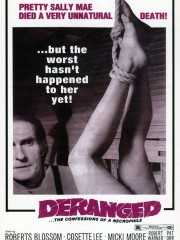 Tickets & Showtimes
Movie Info
This gritty, disturbing film is purported to be a semi-accurate account of the gruesome antics of notorious Wisconsin killer/graverobber Ed Gein, who killed, skinned, devoured, or made furniture out of his many victims in the late '50s.
more
American International Pictures
Cast
News & Interviews for Deranged
Critic Reviews for Deranged
Audience Reviews for Deranged
½
Deranged: Confessions of a Necrophile is the best movie based on real life serial killer Ed Gein. It's even better than "In the Light of the Moon (2000)" which is also based on Ed Gein and is in fact more accurate (I do not consider "The Texas Chainsaw Massacre" to be an accurate account on Gein...not even close). Deranged comes second closest to being true to it's source (with only a few facts changed around). Even so it still remains the best, essentially for it's performances (mostly by Roberts Blossom - who convincingly plays Ed Gein so damn well it's creepy) and for it's subtle, but eerily mournful score. Watching Roberts Blossom (who goes by the name Ezra Cobb, not Ed Gein) is like watching the real thing and makes you wonder if this is how Gein really was. Truthfully, I wouldn't doubt it for a second. Entering the darkness and loneliness of Ezra's world is as cold as a winter's day and just as scary as the monster who inspired his name. We're exposed to the horrific actualities of the Gein case and slowly watch the reconstruction of the infamous "House of Horrors". It's a movie for those interested in "true crime" films, as well as fans of the horror genre. Deranged is a true gem from the 70's not well known to an audience...but definitely deserves one. It's a fantastic little docudrama, as well as a great horror film. Like I said before - it's the best movie based on Ed Gein. Highly recommended to fans of this sort.


jd cryptic
Super Reviewer
Oh yeah! This is what us genre fans like to call a REAL horror film! "Deranged" is shocking, insensitive, cold-hearted and features a 'you-don't-like-it-go-to-hell'-honesty you can't possibly walk away from! This is the pretty damn factual, and therefore hugely disturbing, reconstruction of the case of Wisconsin serial killer Ed Gein. This guy was crazier and far more dangerous than any fictional horror character could ever be and therefore he was a nearly endless source of inspiration for independent filmmakers who wanted to bring a horrific tale. "Deranged" appears to be very cheap and amateurish, but it's one of the rare films in which the low budget production values actually contribute in making the story more grim and realistic! Ed Gein really was a poor and simple-minded farmer who went absolutely berserk after the death of his beloved mother and he refused to accept her passing away by replacing her with cadavers that he kept in his house. The characters' names have been altered, as well as the timing of the story, but Ezra Cobb's actual crimes are frighteningly truthful and portrayed with a chilling eye for detail. The film's biggest trump is unquestionably the casting of the rather unknown actor Roberts Blossom whose impressive and straight-faced performance will make you more than once wonder whether he isn't a real madman! Other aspects that definitely increase the creepiness are the constant funeral music that guides the film and the colorless, depressing set pieces. "Deranged" is not a total gorefest (mainly due to the lack in budget) but the murders are nonetheless explicitly illustrated and quite bloody. Strangely enough, the film's devastating tone is regularly undercut with brilliant flashes of morbid black humor, like Ezra's encounter with an overweight widow who talks to her deceased husband. In short, "Deranged" is a typically 70's cult treasure that should be watched by every horror fan on this planet.
Discussion Forum
Discuss Deranged on our Movie forum!
News & Features