The Italian Job
(1969)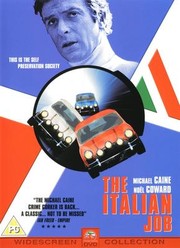 Tickets & Showtimes
The Italian Job Trailers & Photos
Movie Info
The quintessential British caper film of the 1960s, The Italian Job is a flashy, fast romp that chases a team of career criminals throughout one of the biggest international gold heists in history. Michael Caine is Charlie Croker, a stylish robber and skirt-chaser just out of British prison. Shunning rehabilitation for recidivism, Croker takes over "The Italian Job," a complicated plan to hijack gold bullion from Italy -- right from underneath the noses of the Italian Police and the Mafia. The job, whose original mastermind was murdered, clearly requires the sponsorship of a richer, more established criminal than Croker. He turns to the auspices of the eccentric Mr. Bridger (NoŽl Coward in his last film role), a suave, regal, incarcerated English crime boss with a peculiar fascination with the Queen. Bridger provides Croker with a quirky group of Britain's most infamous computer hackers (including a lascivious Benny Hill), bank robbers, hijackers, and getaway drivers -- the ex-con is soon well on his way to relieving Italy of the gold. ~ Aubry Anne D'Arminio, Rovi
more
Cast
News & Interviews for The Italian Job
Critic Reviews for The Italian Job
Audience Reviews for The Italian Job
Beautifully shot for its time, The (Original) Italian Job is a wacky caper flick that, for better or for worse, is about 50 per cent driving scenes. There are several good laughs, though, and the formula is simple. Plan the heist, carry out the heist. Plus, they risk a run-in with the mafia, and after glorious scenes of a Ferrari driving through the Alps in the opening, then being thrown off a cliff, you'll be hooked. The "chase" does dull the latter half of the film, but this is clearly a film that set a template, and one that's worth checking out... I admit that I'm now curious to see the 2000s remake.
The Italian Job is one of the most beloved and lauded crime capers in British history, and there are times when this is rightly so. Still, the first hour drags so much with the over explanation and boring character development you wonder why anyone would sit through the next thirty minutes. There is a great deal of British wit and in posterity a lot of thought put into this film, and watching can let you better understand the action that unfolds later on. Still, Cain's character of lifetime criminal Charlie Croker is a bland playboy with little interesting characteristics, like a down and out Alfie. Noel Coward was a pleasant surprise on the other hand, playing an imprisoned mob leader controlling everything from his jail cell to the awe of the inmates and the honor of the prison guards. His devilish grin and villainous demeanor made for an interesting twist among the bland bunch of criminals. Even comedian Benny Hill isn't given anything to work with, though he was wildly popular at the time. Still, the heist itself makes up for a lot of the film's imperfections. Though the amount of time it takes to get there is tremendously annoying, the actual choreography of the extensive car chase was inspiring. Because we're not directly given the ensuing plan it's this gigantic surprise, the sheer genius of everything coalescing together with so much ease and suave sophistication, that caper is the only word strong enough to describe it. Warning, of course, that you will compare to Ocean's 11 throughout.
The Italian Job Quotes
Charlie Croker: Hang on a minute lads, I've got a great idea! Err... Err...
Charlie Croker: You were only supposed to blow the bloody doors off!
Discussion Forum
Discuss The Italian Job on our Movie forum!
News & Features