Hero
(1992)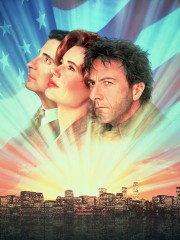 Hero Trailers & Photos
Movie Info
A scuzzy petty thief anonymously rescues several people from a plane crash, only to see a charming homeless man take credit for the act and become a national media sensation. This comedy focuses on the embittered thief's efforts to expose the truth and win the proper recognition.
more
Sony Pictures Home Entertainment
Cast
News & Interviews for Hero
Critic Reviews for Hero
Audience Reviews for Hero
We're all heroes if you catch us at the right moment.
Its an ok movie, pretty enjoyable!
Its funny but not what you call laugh out loud funny!
I like this movie as it is quite amusing and its a great cast and the storyline is ok but its just a bit predictable and can get annoying in places as its that sort of typical movie where you've cried wolf too many times no one believes you and then everyone and everything is then getting in the way of things, so it can get irritating but apart from that its worth a watch even if you only watch it the once.
Dustin Hoffman plays a man who isnt your typical hero and is only concerned about himself but when a plane crashes down in front of him he finds himself becoming an international hero and loved by eeveryone.... the onlky problem is some hobbo has taken the claim for something Hoffman has done! so throughout this movie we find out how hoffman wins his money back and becomes the hero!!
Film Crazy
Super Reviewer
Hero Quotes
Chick: The Truth? Kid, when you get to be my age you'll realize there is no truth. There are only layers of lies. You only get to choose the layer of lies you live in.
Discussion Forum
Discuss Hero on our Movie forum!
News & Features