The Last Outlaw
(1994)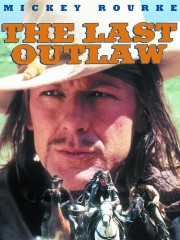 AUDIENCE SCORE
Critic Consensus: No consensus yet.
Movie Info
Mickey Rourke stars as a Western outlaw bent on revenge in this made-for-cable movie. Rourke is convincing as the evil Colonel Graff, the leader of a criminal gang of Wild West thugs. After a robbery gone wrong, the gang members start getting killed one by one, and the survivors don't know who to trust. Dermot Mulroney, who stars as Graff's sidekick Eostis, is one of several strong supporting cast members.
more
Cast
News & Interviews for The Last Outlaw
Critic Reviews for The Last Outlaw
There are no critic reviews yet for The Last Outlaw. Keep checking Rotten Tomatoes for updates!
Audience Reviews for The Last Outlaw
This is clearly a negative Southern film... even though the fact of the Southern Confederacy does not play into the film, at all... only the Southern Cross Battle Flag - which gets burned in the opening... and the GOOD OLD REBEL song... Oh, and the filthy Confederate uniforms which are beginning to morph into fleabag coats... the underlying meaning must be that the South is only fit to destroy itself... And that' Outlaw' and 'Southern Rebel' are synonymous... with BETRAYAL and TREASON.

WE GET IT, already!

But I would have felt better had these men been ex-Yankees. I just watched THE LINCOLN CONSPIRACY from 1977, and these Radical Republican abolitionist (Liberals) people killing each other off, what with Lincoln first (then an attempt on Seward, and Johnson, and then James WILLIAM Boyd AKA John Wilkes Booth, and then finally Lafe Baker by poison!).

Well, Yankees are better at killing each other than rebels are! AND IT IS A WHOLE LOT MORE BELIEVABLE!

No honor among these Liberal thieves!

Otherwise, the movie had a good deal of action, and no real plot to it. Still, Frank Wills' character does go out in a style all his own! (He's a real Wills!) That was one uplifting moment!

Too bad we could not have had some justification for dragging the Confederate flag through the muckracker-slander...

The men all have a great sense of acting ability... the cast was great.

The one way it could have redeemed was if Graff had really been a ghost at the end.

That would have been fantastic.
george wills
½
**1/2 (out of four)

Not too bad, but the film fails to deliver on it's set up. Mickey Rourke does a pretty decent job as an outlaw who is trying to stay alive when a bunch of other outlaws are behing murdered. Dermot Mulroney is also good in a supporting role.
Steve Smith
Discussion Forum
Discuss The Last Outlaw on our Movie forum!
News & Features