To Die For
(1995)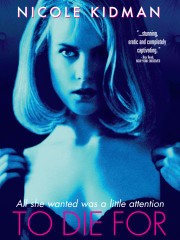 To Die For Trailers & Photos
Movie Info
The price of fame is murder -- or at least it is in the mind of one woman in New Hampshire. Suzanne Stone (Nicole Kidman) has spent most of her life wanting to be famous; she's attractive, speaks well, and imagines herself to be intelligent ("imagines" is the key word here), so she has set her sights on becoming a TV anchorwoman. However, opportunities for female broadcasters are hard to come by in Little Hope, New Hampshire, and she's convinced that her husband, the once handsome but now flabby restaurant manager Larry Maretto (Matt Dillon), is just getting in her way. Suzanne gets herself a spot hosting a weather report on a local public access station, and is preparing a documentary called "Teens Speak Out," which puts her in touch with a trio of high school students -- Jimmy (Joaquin Phoenix), Russell (Casey Affleck), and Lydia (Alison Folland) -- who are even more desperate for attention than she is. When Suzanne hatches a plot to get Larry out of her life once and for all, she uses Jimmy, who has developed a serious crush on her, to do her dirty work, but Larry's sister Janice (Illeana Douglas), who has long believed there was something fishy about Suzanne, eventually begins to realize what happened to her brother. Nicole Kidman won a Golden Globe award for her work in this film, which represented something of a comeback for director Gus Van Sant after the commercial and critical disaster of Even Cowgirls Get the Blues. Screenwriter Buck Henry plays a small role as a high school teacher. ~ Mark Deming, Rovi
more
Cast
News & Interviews for To Die For
Critic Reviews for To Die For
Audience Reviews for To Die For
Chris Weber
Super Reviewer
½
'To Die For'. Nicole Kidman exudes sexiness and manipulation in an unforgettable performance as she takes us through the fame-obsessed journey and mind of Suzanne Stone.

Joaquin Phoenix is wonderfully creepy, and Gus Van Sant's twisted look at fame, recognition and television still has relevance today.
½
"To Die For" is one of my favorite Gus Van Sant films. It's first and foremost a scathing television satire which is right up there with "Network." It's darkly hysterical and Van Sant injects an incredible energy into an already compelling story. But, "To Die For" wouldn't be what it is without the incredible, career best performance by Nicole Kidman. Yes, this is better than the role that won her the Oscar for "The Hours." I can't even put to words how perfect and daring she is here, it needs to be seen to be believed. I think "To Die For" is one of the great dark comedies of the 1990s and a great showcase for Kidman's talents and Van Sant at his most playful. (The only thing keeping it from total greatness is the ending is a small letdown, but that might be because the film actually ends ha)
Steven Carrier
Super Reviewer
To Die For Quotes
Lydia Mertz: [about Jimmy] He says that he needs to see you and that he's dying of love.
Suzanne Stone Maretto: [to Lydia about Russell and Jimmy] It's their word against mine. Who are they? Bunch of 16-year-old losers who grew up in trailers whose parents sit around drinking and screwing their cousins! [laughs] I'm a professional person, for Christ's sake. I come from a good home. Who do you think a jury would believe?
Suzanne Stone Maretto: I think if you wanted a babysitter, you should marry Mary Poppins
Discussion Forum
Discuss To Die For on our Movie forum!
News & Features