Screamers
(1996)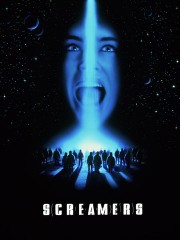 Tickets & Showtimes
Screamers Trailers & Photos
Movie Info
This action-packed sci-fi thriller is set upon the planet Sirius 6B in the year 2078. The planet has been decimated by a vast nuclear war. Many have survived, but their continued survival is threatened by the dreaded screamers, strange shape-changing mechanical creatures who use razor sharp knives to hack up any life-form in their way. They earned their name because when they kill, they make a horrible high pitched sound. The first screamer makes its appearance as a lone soldier approaches a bunker. He has come to deliver an important message from the NEB to its enemy the Alliance. Unfortunately, the low flying screamer gets to the soldier first, and quicker than Popeil's Vegamatic, slices and dices the fellow into tiny pieces. Later a jet crashes near the bunker. Aboard it is a nuclear reactor. One man survives the crash. The man, Ace, knows how to make a bomb with the reactor. Alliance-leader Col. Joseph Hendricksson takes Ace and they travel across the great irradiated desert to met with the NEB leaders. Along the way they find a small boy and though they don't want to, bring him along. Unfortunately, by the time they get to the NEB headquarters, the screamers have killed all but Becker, a tough soldier, Ross, who is nearly mad, and sexy smuggler Jessica. When Becker and Ross see the boy, they think he is a screamer and kill him. They are right and soon the little group find themselves surrounded by the hellish killing machines, all of which have taken the shapes of small boys.
more
Sony Pictures Home Entertainment
Cast
News & Interviews for Screamers
Critic Reviews for Screamers
Audience Reviews for Screamers
Great Film and a good performace for Peter Weller.Nice idea for a movie and the soundtrack is fitting.
It's a blast.
This sci-fi film is fine, but slow-paced and predictable.
Dean McKenna
Super Reviewer
Screamers Quotes
Ace: Beg your pardon, Sir. What are they?
Joseph Hendricksson: It's a sword, Jefferson. Take a look. They call it a Screamer. It was developed for us by an alliance on Earth to neutralize the war on the ground here.
Ace: How do you know it's dead?
Joseph Hendricksson: When they yank this brain out.
Joseph Hendricksson: Where do you go when there's nowhere else to go?
Jessica: ...home.
Discussion Forum
Discuss Screamers on our Movie forum!
News & Features