3 A.M.
(2001)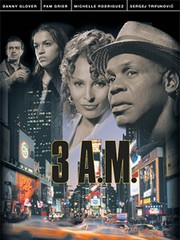 AUDIENCE SCORE
Critic Consensus: No consensus yet.
Movie Info
New York City may be the city that never sleeps, but that means some people have to stay awake all night to look after the folks whose days begin after the sun goes down; this made-for-premium-cable drama looks at a group of cabbies trying to get by while working the night shift. The Lady Luck Cab Company is a taxi service run by Box (Sarita Choudhury), who inherited the failing business from her late father and is struggling to keep it afloat against long economic odds as Lady Luck's drivers work long shifts in some of the Big Apple's less picturesque neighborhoods. Hershey (Danny Glover), one of Lady Luck's drivers, was once a professional boxer, but when his athletic career went south, so did his wife, and now he drives a hack while trying to romance George (Pam Grier), a good-looking waitress who likes Hershey, but is frustrated with his schedule, which rarely allows him a night off. This is bad news for Hershey, since Ralph (Paul Calderon), a regular at the diner where George works, has been making a play for her as well. Another driver, Salgado (Michelle Rodriguez), is a short-fused Latin American woman who is frequently the victim of sexual harassment from her customers, which makes her all the more difficult to be around. Jose (Bobby Cannavale) thinks he's hit the jackpot when he discovers a briefcase full of cash has been left in his cab, though he has reason to believe it's stolen. And Rasha (Sergej Trifunovic), a refugee from Bosnia, is still tormented by the violence that cost his family their lives, and has trouble concentrating on his driving, leading him into more than one auto accident. While the drivers deal with their individual dilemmas, all of them are suddenly wary of their customers, thanks to reports of a serial killer preying on New York's cab drivers. Produced for the Showtime premium cable network, 3 A.M. was screened at the Sundance Film Festival prior to its broadcast debut, where it earned an enthusiastic reception.
more
Watch it now
Cast
News & Interviews for 3 A.M.
Critic Reviews for 3 A.M.
Audience Reviews for 3 A.M.
Film Crazy
Super Reviewer
I liked it. Should've known what I was getting myself into when I saw that it was a 40 Acres & A Mule production, lol. Funny enough, this film was light on the racial issues for a Spike Lee joint. Though I've never been to New York City, I do admire it for its diversity, which was celebrated in this film. Bobby Cannavale and John Ortiz were hilarious; they were perhaps my favorite part of the film; Michelle Rodriguez was playing yet another mad-at-the-world femme with a chip on her shoulder; Sarita Choudhury has got to be one of the most beautiful women I've ever seen, even when she's being a harpy, she's gorgoues; Sergej Trifunovic's character was actually lovable despite his many obvious flaws; and 'The Daily Show's" Aasif Mandvi was a pleasant surprise! While I enjoyed this film, I found it weird that Rodriguez' story was left so unresolved. Or at least to me, it felt unresolved, whereas everyone else's were wrapped up neatly with a bow. This movie came across to me as mostly a comedy, with some drama and a little tragedy thrown in. If you're a Spike Lee fan, give it a look-see.
Discussion Forum
Discuss 3 A.M. on our Movie forum!
News & Features