Sugar
(2004)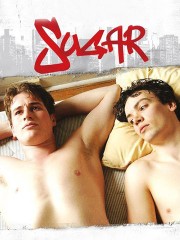 Sugar Trailers & Photos
Movie Info
Adapted from a series of short stories by Canadian cult favorite Bruce La Bruce, this seriocomic coming-of-age story stars Andre Noble as Cliff, a teenager growing up in Toronto in the 1980s. While Cliff is aware of the fact he's gay and has a ravenous curiosity about sex, he hasn't been able to do much about it. However, on his 18h birthday, Cliff's free-thinking mother, Madge (Marnie McPhail), pours him a stiff drink, offers him a reefer, and politely but firmly tells him to go downtown and have some fun. Eager to lose his virginity, Cliff instead encounters Butch (Brendan Fehr), a good-looking guy in his early twenties who makes his living as a male prostitute. Cliff is infatuated with Butch from the first moment he sees him; however, while Butch appears fond of Cliff and strikes up a friendship with him, his career has forced him to develop a sense of emotional distance from others, and he isn't interested in sex with other men unless he's being paid for it. Cliff becomes a regular visitor to Butch's apartment and gets a crash course in the underbelly of the Toronto gay community, but one day Butch drafts Cliff into performing a sex act with him for a customer, leaving Cliff humiliated and heartbroken. Sugar also stars Sarah Polley and Maury Chaykin. Only the second feature film from respected theatrical director John Palmer, it was screened as part of the 2004 San Francisco Lesbian and Gay Film Festival.
more
Cast
News & Interviews for Sugar
Critic Reviews for Sugar
All Critics (12) | Top Critics (5) | Fresh (6) | Rotten (1) | DVD (2)
can't imagine a baseball fan%u2014or a moviegoer%u2014who wouldn't respond on some level to the new film "Sugar," a rich and moving reminder of the way professional sports aspirations can shape someone's destiny in the real world, as opposed to the mytho

Chicago Tribune
Top Critic
This tale of tortured love between a gay youth and street hustler juggles a complex load of emotional and tonal colors within an admirably lean runtime.
Hollywood Reporter
Top Critic
This probation of the American Dream, a highlight of the Sundance Film Festival, benefits from a wonderful lead performance by a nonprofessional actor

Audience Reviews for Sugar
The only thing that I'm dissappointed about is that you see everybody'd BUT Brendan -- Whom you want to see if you watch this movie -- hehehehe
Tom Ericksen
Super Reviewer
A surprisingly excellent, and considering the source material is from Bruce LeBruce, unexploitative drama based on semi-autobiographical short stories. Made on a shoe-string budget (and looking it), there's real talent here both behind and in front of the cameras. Director John Palmer infuses the film with an energy that doesn't let up, with bravaura camera techniques shot on hand-held and a realistic lighting scheme. The story is pretty downbeat and depressing, as expected, but the characters don't wallow in self-pity and through the short running time we get to know them very well. There's little backstory but the characters already feel like they've been on a journey even when they've only just been introduced. The writing is provocative and the performances from Brendan Fehr, and in particular, Andre Noble (who died shortly after filming was complete from accidental poising) are superb, and there's a fantastic cameo from Sarah Polley.
Discussion Forum
Discuss Sugar on our Movie forum!
News & Features