Bubble
(2006)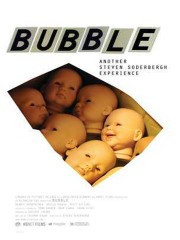 Tickets & Showtimes
Bubble Trailers & Photos
Movie Info
Steven Soderbergh followed up his slick, star-studded sequel, Ocean's Twelve, with Bubble, a small-town drama about workers in a doll factory, played by a cast of unknowns. Martha (Debbie Doebereiner) seems to have acclimated herself to a very simple life. She works at the factory, where she eats lunch with a younger co-worker, Kyle (Dustin Ashley), and goes home to take care of her elderly father. Her routine is disrupted when an attractive young woman, Rose (Misty Wilkins), is hired at the factory to help them with the holiday rush. Rose soon tells the others that she's eager to leave their town, where there is "nothing to do." She immediately attracts Kyle's attention. One night, Rose asks Martha to baby-sit for her two-year-old daughter while she goes out on a date. Martha is startled to learn that her date is with Kyle. When Rose returns home that night, she's greeted by her angry ex-boyfriend, Jake (K. Smith), who accuses her of stealing from him. Martha looks on while Rose and Jake have a heated confrontation. The next morning, one of the characters is found murdered, and a detective (played by Decker Moody) begins to investigate. Bubble was written by Coleman Hough, who also scripted Soderbergh's Full Frontal. It was shown at the 2005 New York Film Festival, presented by the Film Society of Lincoln Center. ~ Josh Ralske, Rovi
more
Watch it now
Cast
News & Interviews for Bubble
Critic Reviews for Bubble
Audience Reviews for Bubble
Chris Weber
Super Reviewer
"Another Steven Soderbergh Experience"

Bubble is a film that won't be appreciated by your friends. You know, the people who watch two types of movies; either stupid comedies with Will Farrell or Adam Sandler or dumb action movies like The Fast and the Furious. Bubble is one of Steven Soderbergh's experiments and a fascinating one at that. When Soderbergh does a movie like this; it brings to mind only one other filmmaker. That would be Gus Van Sant. They both can successfully take random people who aren't actors and throw them into a movie, eliminate all the gimmicks of standard filmmaking, and make a movie that is extremely real. Bubble is like Van Sant's Paranoid Park. Both if which are amazing.

Bubble is set in a shitty Ohio town; just slightly worse then the one I have to look at every day. The movie centers around three characters who work at a doll factory. When the new girl, Rose goes out on a date with an fellow employee, she leaves another worker, Martha, to babysit her daughter. The date goes good and she is dropped off at home, where her ex barges in saying she stole from him. From there it is a small time crime mystery that is about more then just a murder. The story is excellently told with little excitement, just like it would be in real life.

It's a simple movie with a delicate touch. The actors are real people using real dialogue, and less acting and more just going about their day. The only music in the movie is during little scenes where we watch a character do something, and the music is as simple as some chords played on an acoustic guitar. The film is also extremely short at 73 minutes, which plays right into the style and simpleness of the film itself.

You have to really like experimental, art films to like this one. It surely isn't for everyone, but if you are a fan of Soderbergh and experimental films in general, you can't go wrong here. It's a truly excellent little movie that proves that Soderbergh is more than an average director(although he already proved that many times over), and that he is an artist and visionary. Movies like Bubble explain why Soderbergh is one of my favorite directors around at the moment.
Melvin White
Super Reviewer
Where "Full Frontal" (also written by Coleman Hough) was Steven Soderbergh's ode to Polish meta-narrative and "Ocean's Twelve" was his valentine to Jean-Luc Godard, "Bubble" is Soderbergh's neorealism tribute. Employing non-actors (whom are all extremely potent) and filming in a real, decaying Ohio town (a doll factory is at the center) Soderbergh proves how deadly the banal black holes of middle American can be in the 21st century. Watching as these people are ripped from their lives by impulsive crime (there is more going on here than just the murder for attentive viewers) is oddly harrowing. Steven Soderbergh has proved that he can deliver slick Hollywood entertainment like "Ocean's Eleven" and "Erin Brockovich" but it's the fact that he is able to pull off films like "Bubble" that prove he is a true filmmaker and artist. This is yet another truly unique Steven Soderbergh experience.
Steven Carrier
Super Reviewer
Discussion Forum
Discuss Bubble on our Movie forum!
News & Features