Stupidity
(2003)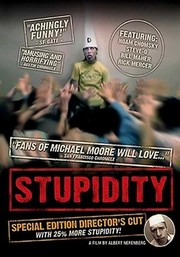 Tickets & Showtimes
Stupidity Trailers & Photos
Movie Info
Take a closer look at the "dumbing down" of contemporary culture in an alternately enlightening and hilarious documentary from filmmaker Albert Nerenberg produced to explore the prospect that willful ignorance has increasingly become a strategy for success in the realms of politics and entertainment. From the Internet to television to popular film and virtually everything in between, stupidity's stronghold over society has reached an all-time high. Despite the vast potential that mass media holds as a tool of education and self-betterment in modern society, why is it that the masses are so determined to simply turn on the television and turn off their brains at the end of the day? In an era where even the mere mention that mass media may be detrimental to our mental development may prove offensive to the vast majority of consumers, director Nerenberg gathers some of the best-known cultural critics, authors, and academics of our generation for a thought-provoking exploration into the potentially damaging effects of film, television, and other forms of media on the modern mind. ~ Jason Buchanan, Rovi
more
Watch it now
Cast
News & Interviews for Stupidity
Critic Reviews for Stupidity
Audience Reviews for Stupidity
½
I learned the origins of the words "idiot", "moron", and "imbecile" but I could have unearthed that in an article. I learned who some of the leading authors are in this understudied field of "stupid" but I could have unearthed that in an Amazon book search. I didn't leanr anything about the nature of "stupidity" other than it is hard to find a consensus on the definition of the word, but that lack of consensus hold true for any loaded and complicated subject that tries to pick one all-encompassing word to define it.

I was, at least, impressed by the lineup of intelligent individuals the film-makers were able to interview. My biggest sense of being cheated by this film is that it doesn't do something so utterly obvious - interview and explore the lives of the "stupid". The film also never addresses the idea that stupidity, idiocy, etc can all be defined by their antithesis to a system to which most of modern societies subscribe, the fields of "logic" and "ration". This film just does not provoke enough thought on non-thought, and often ignores the elephant in the room of stating that the film-makers, like the researchers they are interviewing and referencing, define stupidity by a lack of awareness. But I guess that is all okay because the opening disclaimer is that the film was made by idiots.

Just not a revealing documentary and not worth your time. If you wish to further investigate the realm of stupidity and its brethren, watch a few episodes of Jackass and make your own observations on why and what could be considered "stupid".
Somewhat thought provoking, but really just more "stupid" entertainment. I'm OK with that.
Bill Cavros
Super Reviewer
Discussion Forum
Discuss Stupidity on our Movie forum!
News & Features