Vitus
(2007)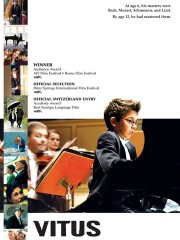 Vitus Trailers & Photos
Movie Info
Vitus is a boy who almost seems to be from another planet--he has hearing like a bat, he plays piano like a virtuoso and studies encyclopedias. No wonder his parents begin to anticipate a brilliant future for him. They want Vitus to become a pianist. However, the little genius prefers to play in his eccentric grandfather's workshop. He dreams of flying and of a normal childhood. Ultimately, with one dramatic leap, Vitus takes control of his own life.
more
Cast
News & Interviews for Vitus
Critic Reviews for Vitus
Audience Reviews for Vitus
½
It's interesting to note some less-than-enthusiastic comments of others about 'yet another child prodigy story,' which proceed to harp on that single note without giving the film credit for it's strengths. For me, this fantastic performance by Teo Gheorgiu succeeds at rehumanizing the prodigy stereotype, has fun doing so, and THAT wholistic perspective helps make it an ideal family movie. Big deal, there's no Rach 3, Hammerklavier or Gaspard des le Nuit--for Vitus, this is not a shortcoming.
Anderson Aukwords
This was a great story and the cast was wonderful. I loved the final performance; it was a great way to end the movie.
Heather Metzger
Vitus Quotes
Vitus von Holzen: Sometimes you have to cut the tree to save the fruit.
Grandfather: If you can't decide, you'll have to part with things you like.
Vitus von Holzen: I'd like to be someone else.
Grandfather: Like who, for example?
Vitus von Holzen: I don't know, whoever, just normal.
Grandfather: As normal as me?
Vitus von Holzen: No, more normal..
Isabel (earlier): How long are you going to stay in your room?
Vitus Age 6: Until I am an adult.
Discussion Forum
Discuss Vitus on our Movie forum!
News & Features