Women in Cages
(1971)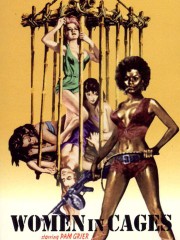 AUDIENCE SCORE
Critic Consensus: No consensus yet.
Movie Info
In this prison melodrama set in a women's reformatory, a sadistic lesbian guard takes great pleasure in tormenting her inmates in the grim confines of "The Playpen." The film is called Women's Penitentiary III on video.
more
Cast
News & Interviews for Women in Cages
Critic Reviews for Women in Cages
All Critics (2) | Fresh (2) | Rotten (0) | DVD (2)
Thankfully lives up to its reputation providing pure unadulterated sleaze...

An unsung grindhouse gem -- a despairing film of pitiless integrity that functions as a corrective to the 'Women in Prison' idea that life behind bars is action-packed and titillating.

Commercial Appeal (Memphis, TN)
Audience Reviews for Women in Cages
Tim Salmons
Super Reviewer
Superior WIP film, and one of the first to kick off the genre's popularity at the outset of the 1970s. Some unique casting adds interest as Pam Grier plays the sadistic warden while personal favorite Roberta Collins, frequently the sympathetic cellmate, is the conniving junkie with orders to kill the new girl! That new girl is Jeff (Jeff?!?) played by Jennifer Gan whose acting credits are limited, mostly bit parts on TV, and don't extend beyond 1972. And for a very good reason too: she's absolutely terrible! Probably the worst acting I have seen in the genre, and these roles aren't honeypots for the next Charlize Theron. So she's a significant drag factor, but Collins & Grier keep the ship from sinking while showing some boobie among the showerings, stabbings, riotings, plottings, escapings, and torturings on the Wheel Of Misfortune. In all, a gritty guilty pleasure good time.
Doctor Strangeblog
Super Reviewer
This is the weakest of Rodger Corman's "Women in Prison" series with Pam Grier. The story is weak and the acting is bad. There are plenty of nude women. Pam Grier's prison guard uniform is ugly. The props are fake looking and the bloody makeup is just red streaks painted on the girls bodies. The whole premise of the story of four American girls in a Philippine prison seems unlikely. And for a Philippine prison to have a black American woman from Harlem as the head matron is also kind of far fetched. Despite the name of the movie, the women spend most of the time in a prison cell and are never placed in any cages like the one shown on the cover of the DVD box. The movie's story made it seem like there was a Philippine mafia that controlled the country. When this movie was made Marcos was dictator of the Philippine Islands and controlled everything in the country with an iron fist. If the Marcos government wanted to throw a drug smuggler into prison they wouldn't need his girlfriend to testify against him. They'd just frame him and send him to prison.
Discussion Forum
Discuss Women in Cages on our Movie forum!
News & Features