8MM
(1999)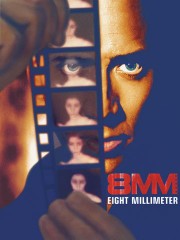 Tickets & Showtimes
8MM Trailers & Photos
Movie Info
Tom Welles is a surveillance specialist-what used to be known as a "private eye"-but his version of the profession is hardly the stuff of which legends are made. He has a modest, home-based practice in Harrisburg, Pennsylvania, where he lives an existence remarkable only for its normalcy with wife Amy and baby daughter, Cindy. Respected but still waiting for a big break that will improve his professional status, Welles spends most of his time on routine cases involving unfaithful spouses and the like. Nothing too dangerous, nor too threatening... until a small, innocuous-looking plastic reel of film turns Welles' life upside down, sending him down a sordid and terrifying path into society's darkest corners. From the lurid sidewalks of L.A.'s Hollywood Boulevard to the squalor of New York City's meat-packing district, Eight Millimeter follows Welles as he relentlessly pursues a bizarre trail of graphic and disturbing evidence to determine the fate of a complete stranger-a girl who begins to haunt his imagination and conscience. Aided in his obsession by a streetwise adult bookstore clerk, Max (Joaquin Phoenix), Welles drifts away from his wife, family and former life. What Welles learns is beyond his worst nightmares, as he comes to realize how deadly a small reel of eight millimeter film can be.
more
Cast
News & Interviews for 8MM
Critic Reviews for 8MM
Audience Reviews for 8MM
Jack Hawkins
Super Reviewer
You are never prepared for the truth.

Good movie. This film is very strong,gritty,edgy and dark. Nicolas Cage did a very good job acting on this one. The thing is this film is very real and there's actually people so sick like this in the world we live in, it's disturbing to know this and those who do those kinds of things shall receive no forgiveness.

Tom Welles, private eye, is hired by a wealthy widow, whose well-known husband passed away recently. She has found a reel of S8-film in a safe. On the film is a cruel slaughtering of a young girl, who obviously does not pretend or act: A snuff-movie. Welles takes up investigation, which leads him to the girl's mother and from there to Hollywood, into the office of a porn flick producer. Welles' rising obsession to solve the case also carries him away from his wife and new-born daughter. But when finally names are at hand, Welles suddenly finds himself on ice much thinner than he planned.
½
Private investigator Nic Cage is hired by some old rich dame to check out a curious video found in the dead husband's safe. With some moments of interest this attempt to update the gumshoe cliche gets lost in its own over-reaching for social relevance. And Cat Keener is totally wasted.
8MM Quotes
Tom Welles: I'll never get tired of hurting you, Eddie!
Max California: My brother OD'd and I have a hairlip.
Discussion Forum
Discuss 8MM on our Movie forum!
News & Features