American Wedding
(2003)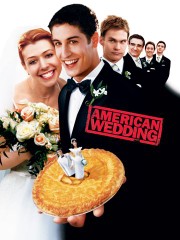 TOMATOMETER
AUDIENCE SCORE
Critic Consensus: Raunchier and even more gross than the first two American Pies, American Wedding ought to please fans of the series.
Tickets & Showtimes
American Wedding Trailers & Photos
Movie Info
With Great East Falls High now just a memory, the kids have grown into adults ready to wreak havoc with a new rite of passage: Jim and Michelle are getting married--in a hurry. Jim's grandmother is sick and wants to see Jim walk down the aisle, so they're going for it in two frantic weeks. Stifler plans to be there (for the bridesmaids!) and, more importantly, to throw the ultimate bachelor party (for the strippers!). Finch is all for the hedonistic rituals, but not for letting Stifler steal the maid of honor, who happens to be Michelle's sexy younger sister, Cadence. But while everybody else sweats and frets, Jim's Dad is cool as ever, dispensing advice that no one wants to hear and getting ready for one of the best days of his life.
more
| | |
| --- | --- |
| Rating: | R (for sexual content, language and crude humor) |
| Genre: | Comedy |
| Directed By: | Jesse Dylan |
| Written By: | Adam Herz |
| In Theaters: | Aug 1, 2003 Wide |
| On DVD: | Jan 2, 2004 |
| Box Office: | $104.4M |
| Runtime: | |
Cast
News & Interviews for American Wedding
Critic Reviews for American Wedding
Audience Reviews for American Wedding
½
Michelle: Love isn't just a feeling. It's shaving your balls.

"This time they're going all the way."

Like every other American Pie film, American Wedding is just an average comedy. There's many laughs throughout, but I wouldn't call it a great comedy or even good comedy. It's average. There's nothing makes this movie anything more than just another raunch fest. The cast is serviceable as always, but other Stifler and Finch, none of these characters are anything to write home about. 

Jim and Michelle have graduated from college and are now going to get married. All the normal, everything goes wrong gags are at work here. Nobody wants Stifler to be invited to the wedding, but he manages to find a way in. It doesn't help anything either, when Michelle's extremely hot, and virgin sister arrives. Stifler and Finch end up battling for her, while stuff keeps going wrong as the wedding approaches.

There's really not too much to say about this movie. It's decent, but not something I thoroughly enjoyed. It has its moments and should satisfy fans of the previous two films. What made the movie watchable for me was Stifler acting like a good old boy in order to try to get his hands on Michelle's sister. In the end though, this was nothing special and just another addition to the American Pie franchise.
Melvin White
Super Reviewer
½
The best part of the American Pie films for me has been the relationship between lovable yet geeky horndog Jim and Michelle the band geek who proved she has quite a wild side. First they hooked up at prom, then, in part two they genuinely fell in love.

In this, the third (and for a while, final) film in the series, the film takes the logical route to a story that started with maturation and virginity loss and concludes with Jim proposing marriage to Michelle. What follows, as you might expect, is a zany plot filled to the brim with gross out gags and crude sexual humor, as well as one bad thing after another happening, but all ends well, and, much like the first film, there's a good story here, as well as tons of heart, charm, and sweetness.

Stiffler has never really been my favorite character, but he becomes quite the focus for a lot of the time. The way they handle his character though marks a big turn for him, and he really shows his true colors, even if it means Finch (my favorite) and Kevin take a back seat to helping Jim get through all his problems to come out on top.

The film sees the departure of several significant characters in the series, absent in reality due to scheduling conflicts and difficulties with coming up with good plot lines for them all. It bugs me though, because there's no explanation given within the film for all of this.

Things I liked about this film, aside from a logical story line that people care about, and a good mix of heart to go with the raunch, the casting of the great Fred Willard as Michelle's dad, made even more fun by the fact that he and Eugene Levy together can ham it up as the well meaning and caring, but sometimes embarrassing dads. Seeing Finch and Stiffler trade roles and behavior in order to fight over Michelle's hot little sister (a young January Jones) is good too. The use of two versions (due to licensing issues) of the great Van Morrison song "Into the Mystic" during the big climax is great too.

Overall, the film is a lot of fun and wraps up a good trilogy nicely. It's not perfect, and despite his coming around, there's still too much Stiffler and not enough of Jim's 'real' friends, although, like I said, the way they handle the Stiffler subplot acts works nicely. Oh and of course, you have to throw in John Cho and Jennifer Coolidge for good measure. I enjoyed this film, and think you should give it a shot.
Chris Weber
Super Reviewer
American Wedding Quotes
Paul Finch: Grandmother-fucker.
Steve Stifler: Mother fucker.
Paul Finch: Yes I am.
Steve Stifler: Oh, you son of a bitch.
Steve Stifler: It's on like Donkey Kong, beeyotch.
Kevin Myers: [raising a glass to toast] Gentlemen, to the next step...
Jim Levenstein: Oh will you stop with that 'next step' bullshit.
Paul Finch: Put down your glass.
Steve Stifler: If you'll excuse me, I have some shit to attend to.
Discussion Forum
Discuss American Wedding on our Movie forum!
News & Features