Anchorman - The Legend Of Ron Burgundy
(2004)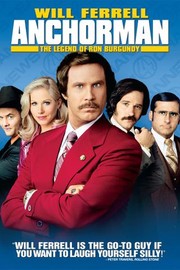 TOMATOMETER
AUDIENCE SCORE
Critic Consensus: Filled with inspired silliness and quotable lines, Anchorman isn't the most consistent comedy in the world, but Will Ferrell's buffoonish central performance helps keep this portrait of a clueless newsman from going off the rails.
Tickets & Showtimes
Anchorman - The Legend Of Ron Burgundy Trailers & Photos
Movie Info
Marking the directorial debut of Adam McKay, former head writer for Saturday Night Live and founder of the Upright Citizen's Brigade, Anchorman is set during the 1970s and stars Will Ferrell as Ron Burgundy, San Diego's top-rated news anchorman. While Burgundy is outwardly willing to adjust to the idea of females in the workplace -- even outside of secretarial positions -- he certainly doesn't want his own job challenged. Keeping that in mind, it's no wonder that the arrival of Veronica Corningstone (Christina Applegate), an aspiring newswoman, is, in Ron's eyes, not the studio's most welcome addition. After Veronica pays her dues covering so-called female-oriented fluff pieces (think cat fashion shows and cooking segments), the ambitious Veronica sets her eyes on the news desk; more specifically, on Ron's seat behind it. Not unpredictably, Ron doesn't take the threat lightly, and it isn't long before the rival newscasters are engaged in a very personal battle of the sexes. Anchorman was co-written by Ferrell, and features supporting performances from David Koechner, Steve Carrell, Paul Rudd, Tara Subkoff, and Maya Rudolph. ~ Tracie Cooper, Rovi
more
| | |
| --- | --- |
| Rating: | PG-13 (for sexual humor, language and comic violence) |
| Genre: | Comedy |
| Directed By: | Adam McKay |
| Written By: | Adam McKay, Will Ferrell |
| In Theaters: | Jul 9, 2004 Wide |
| On DVD: | Dec 28, 2004 |
| Box Office: | $84.1M |
| Runtime: | |
Cast
News & Interviews for Anchorman - The Legend Of Ron Burgundy
Critic Reviews for Anchorman - The Legend Of Ron Burgundy
Audience Reviews for Anchorman - The Legend Of Ron Burgundy
In the last 10 years there hasn't been a comedy that is more quotable and hilarious on repeat viewings than "Anchorman". I saw this is the theater and immediately fell in love. 9 years later I figured I would revisit it before the big sequel to see how much it holds up, and damn it is still hilarious. Will Ferrell is a comedic genius, and this is his best role ever(well, maybe tied with "Old School"). The rest of the cast is amazing, and looking back this kind of started the big push for Paul Rudd and Steve Carrell. After this they had "40 Year Old Virgin" and just kind of blew up from there. I love this movie and still quote it often, from "I love lamp" to "I have many leather bound books". Amazing comedy that ranks as one of the best of all time, and if you don't agree then I will introduce you to Jack Johnson and Tom O Leary.
"Anchorman" is a laugh-a-minute film that will have you rolling on the floor. All of these characters are hilarious in their own ways and it has become one of the most quotable films in history, as far as comedies go. The writers really did not have a hard job, because even if they wrote bad dialogue, the actors would save it by adding to it. This is not an amazing film by any means, but if you are watching with a group of people, you will be sure to bust a gut. Will Ferrel and this incredibly talented group of people are perfectly cast in their roles, which is what I think is the best part about it. It may not be the best comedy ever, but it has a lot of laughs and the direction is very well done. "Anchorman" is awesome fun!
Anchorman - The Legend Of Ron Burgundy Quotes
Brick Tamland: Yeah.. I stabbed a man in the heart
Ron Burgundy: I saw that! Brick killed a guy. Did you throw a trident?
Brick Tamland: Yeah there were horses and a man on fire and I killed a guy with a trident.
Ron Burgundy: Brick I've been meaning to talk to you about that. You should find yourself a safe house or a relative close by. Lay low for a while because you're probably wanted for murder.
Ron Burgundy: You have an absolutely breathtaking hiney.
Ron Burgundy: I'm kind of a big deal. People know me.
Garth Holiday: Ron why did you say that? Why? Why Ron? Why? You were my hero Ron!!!
Ron Burgundy: Garth. . . I.
Garth Holiday: And you come out and. . . Stink like that. . . Poop. . . your poop mouth. . . you have a poop out of your mouth!!!!
Ron Burgundy: Garth, If I were to give you some money out of my wallet, would that ease the Pain?
Garth Holiday: I hate you Ron Burgundy!!! I hate you!!!!!!!!
Discussion Forum
Discuss Anchorman - The Legend Of Ron Burgundy on our Movie forum!
News & Features