Arachnophobia
(1990)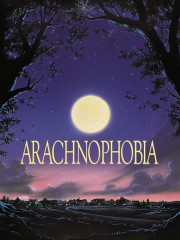 TOMATOMETER
AUDIENCE SCORE
Critic Consensus: Arachnophobia may not deliver genuine chills, but it's an affectionate, solidly built tribute to Hollywood's classic creature features.
Tickets & Showtimes
Arachnophobia Trailers & Photos
Movie Info
Referring to the fear of spiders, Arachnophobia features a particularly deadly species of spider that manages to make its way from the Venezuelan rain forest to a small California town, thanks to the many oversights of entomologist Julian Sands. Yuppie doctor Jeff Daniels, fed up with the dangers inherent in big-city living, has resettled in this town on the assumption that nothing untoward could ever happen here to himself and his family. Before long, however, Daniels is trying to make sense of a series of sudden deaths-and to figure out why each of the corpses has been drained of blood. The audience, of course, knows that the culprits are those pesky South American spiders, which grow larger with each kill. To make matters worse, Jeff Daniels suffers from a profound case of arachnophobia. John Goodman supports the cast as a slovenly exterminator, and Frank Marshall, longtime producer of Steven Spielberg's films, makes his directorial debut in Arachnophobia.
more
Cast
News & Interviews for Arachnophobia
Critic Reviews for Arachnophobia
Audience Reviews for Arachnophobia
Eight legs, two fangs and an attitude.

"Arachnophobia" is a very entertaining horror movie produced by Steven Spielberg.

A group of researchers are on a research expedition to Venezuela. Upon a routine trapping of insects, the researchers find two stunned spiders in their traps. They are unlike any spiders they have ever seen, and they begin to study the spiders. One of these spiders escapes, and kills a researcher. Once the researcher is discovered dead, the spider hitches a ride back to the researchers home town, Canaima, California. There, Dr. Ross Jennings has just moved in, and he is deathly afraid of spiders. Now, the Venezuelan spider has reached the U.S., and has begun to dominate the town. Soon, people who appear completely healthy start to die suddenly. It is only after the death of the town's only other doctor, that Jennings realizes it may be a spider that is causing the death. Soon, they attract the attention of the head researcher in Venezuela, Dr. James Atherton. He sends his assistant to Canaima, only verifying that the Venezuelan spider was involved. He informs them that the Venezuelan spider plans on taking over its new area, by creating reproductive offspring with a domestic house spider. Now, it's a race against time before the Venezuelan spider manifests the town and eventually the entire country.
I watched with a Friend who has arachnophobia, still she wanted to watch this Movie very badly. Okay.

It wasnt fun for me to hear her scream next to me whenever the Spiders appeared on the Screen and who has seen the Movie it was 95%, so anyone can imagine what Screams I had to suffer. lol

Long time ago someone recommended this Movie to me and I didnt actually paid attention, ironically a friend who has Arachnophobia told me to give it a try.

Spiders dont bother me at all. It began a tiny bit "suspense" or in this case "oh this is the beginning" but later I noticed it was more "humourous" and not even CLOSE TO A HORROR.

The only Horror were the Screams of the Friend during the whole Movie. Jesus Christ I had a headache at the End.
Discussion Forum
Discuss Arachnophobia on our Movie forum!
News & Features