Austin Powers: The Spy Who Shagged Me
(1999)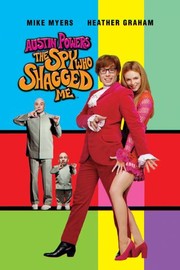 Tickets & Showtimes
Austin Powers: The Spy Who Shagged Me Trailers & Photos
Movie Info
Austin Powers -- fashion photographer, denizen of Swingin' London, international espionage agent, and bane of dental hygienists everywhere -- returns in his second screen adventure. Powers (once again played by Mike Myers), a 1960s superspy stranded in the 1990s, discovers that his nemesis, criminal genius Dr. Evil (also Mike Myers), has somehow stolen his "mojo" (the secret to his otherwise inexplicable sex appeal) and traveled back in time to the 1960s as part of his latest fiendish scheme. Powers must also travel back in time to retrieve it, but if Austin doesn't quite fit into 1998, he's been there just long enough not to fit in in 1968 anymore, either. Powers also discovers that Dr. Evil has new allies this time: Mini-Me (Verne Troyer), a clone of Dr. Evil one-eighth his size but just as nasty; Fat Bastard (Myers yet again), whose name describes him just fine; and vixenish assassin Robin Swallows (Gia Carides). Powers' lack of mojo also proves troublesome when he's paired with his new partner, saucy CIA operative Felicity Shagwell (Heather Graham). Other characters returning from the first film include Elizabeth Hurley as Vanessa Kensington, Robert Wagner as Number Two, Michael York as Basil Exposition, Seth Green as Scott Evil, and Mindy Sterling as Frau Farbissina. Austin Powers: The Spy Who Shagged Me also includes cameo appearances from Tim Robbins, Jerry Springer, Woody Harrelson, and Burt Bacharach with his current songwriting partner, Elvis Costello. ~ Mark Deming, Rovi
more
Cast
News & Interviews for Austin Powers: The Spy Who Shagged Me
Critic Reviews for Austin Powers: The Spy Who Shagged Me
Audience Reviews for Austin Powers: The Spy Who Shagged Me
½
The recurring "It looks like a huge -" joke is still comedy gold. Heather Graham is one saucy coquette, Rob Lowe's Robert Wagner impression is silly and enjoyable (by virtue of me loving him so much more now on "Parks & Recreation"), and cameos by Woody Harrelson, Elvis Costello, and Willie Nelson are delightful surprises.
A much funnier and livelier sequel to a comedy with not a whole lot to offer. The Spy Who Shagged Me is a definite upgrade! I laughed quite hard even though half the jokes were recycled from the first. Jay Roach (Director) just seems to be able to bring more enjoyable style into this instalment. Mike Myers finally finds a woman (Heather Graham) who is worthy of writing chemistry for. This film still is not perfect, and the fact that the plot is a man running ramped over his lost MOJO, just seems a little too ridiculous, which is why I love this film so much. In the end, it's just another hilarious comedy, but not one that I would watch over and over again!
Austin Powers: The Spy Who Shagged Me Quotes
Austin Powers: Why won't you die?
Dr. Evil: What?
Scott Evil: Oh nothing, 'Darth'
Dr. Evil: What did you call me?
Scott Evil: Nothing. (Mimics sneezing) RIP OFF!!
Dr. Evil: Bless you.
Fat Bastard: Get in my belly.
Austin Powers: Please God, spectacles, testicles, wallet and watch.
Discussion Forum
Discuss Austin Powers: The Spy Who Shagged Me on our Movie forum!
News & Features