Bang Bang You're Dead
(2002)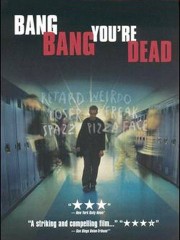 AUDIENCE SCORE
Critic Consensus: No consensus yet.
Bang Bang You're Dead Trailers & Photos
Movie Info
Inspired by a play that has been presented dozens of times to middle- and high-school students throughout the United States, Bang, Bang, You're Dead ponders the possible reasons that outwardly "normal" teenagers periodically resort to Columbine-style violence. The focus here is on Trevor Adams (Ben Foster), an intelligent but hypersensitive high schooler whose troubled past has designated him "at risk." Feeling persecuted by those stronger and more popular than himself, Trevor has already run afoul of classmates and teachers alike by making death threats against the school football team. Now he has aligned himself with a group of fellow "outsiders" who call themselves the Trogs. Indulging in prankery that runs the gamut from merely irritating to potentially dangerous, Trevor and the Trogs plan an all-out deadly assault against their so-called enemies. Although the script points out that peer pressure and bullying has gone beyond the point of harmlessness in today's society, it is careful not to blame any one person or group for what ultimately happens to Trevor; even Trevor himself is shown to be comprised of equal parts villain and victim. First screened at the Seattle International Film Festival, Bang, Bang, You're Dead formally premiered October 13, 2002, over the Showtime cable network.
more
Cast
News & Interviews for Bang Bang You're Dead
Critic Reviews for Bang Bang You're Dead
All Critics (2) | Fresh (1) | Rotten (1) | DVD (5)
[A] bitter film about the dismal atmosphere in which our children are learning today...


Audience Reviews for Bang Bang You're Dead
½
Bang Bang You're Dead tells an excellent story carried by a brilliant Foster. It's a shame that the message is preached so heavily. The main story sees Foster at school a year after he made a threat against the football team. It has gained him both fear, respect and hatred. Soon he hangs in the balance between a teacher that wants to help him and a gang of disturbed youths. It shows the reasons that some people go to such destructive lengths, but never excuses their actions. Some of the writing is quite amateurish, especially a joke that fails every time, where the parents get the name of the play wrong. Luckily most of the younglings bring their A game and leave an impression that the message fails to deliver.
This is such a great emotional and powerful film. This was a made for TV movie that I first caught when they premiered it on Showtime. It's about a shooting that might possibly take place at a troubled teenagers local high school, and unlike the movie "Elephant" this one gives us more insight as to why the troubled teens want to go along with it and focuses a lot more on their emotions. Do not watch this movie if you get depressed easily, because trust me this one is a downer. On the other hand it might actually help you better understand that there are always two sides of the story, and even though these teen offenders wanted to commit such a horrible act, they too were victims as well. Two wrongs do not make a right, and shooting up a school is totally immoral and unjustifiable, but this movie did show that the troubled teens still indeed had much innocence hidden somewhere inside them.

Ben Foster is amazing in this movie. His character in the film goes by the name of Trevor Adams, who was recently suspended from his school after he had made a bomb threat. The other teenagers would constantly pick on Trevor, making his life a living hell, but not so much after he returned to his school again. Because of his previous threat, Trevor had put a lot of fear into many of the students, which led them to kind of stay away from Trevor. The only person in the school who seems to understand Trevor is a film teacher named Val Duncan, who asks Trevor to star in a school play about school violence, something that Trevor seems to know a little about. There is also a new girl in school who seems to take a likening in Trevor, and even tries reaching out to him. But there are still things in Trevor's life that he can't escape and when another group of troubled teens, who also get picked on and call themselves "Trogs", start battling it out with the jocks they ask Trevor that he join them. Trevor's now torn from his decision between joining the Trogs or listening to his film teacher's helpful advice. The big problem for Trevor now is that the Trogs actually plan on shooting up their high school and killing all the trouble making jocks.

Watching Ben Foster's character in this movie I swear it's like you can almost feel his pain. He plays it so damn well and I never knew when the hell his character was just going to snap with fucking rage. You can tell that his character in the movie was really a good kid at heart, but sadly the people around him just made his life a living hell (which he records on his video camera by the way). The other troubled teens also play a very good part, and believe it or not, you might actually find yourself looking up to these kids at certain points. Everything that these kids go through is just so sad. Again, this movie is very depressing but you should all check it out if you can.

By the way, this movie is actually based on a school play and they show it to students in many, many high schools. There is a great message that's told through the play, as well as in the movie.
jd cryptic
Super Reviewer
Bang Bang You're Dead Quotes
Sean: You wanna go manage some anger?
Trevor Adams: Some people don't even need a gun to hurt you. They use words or laughter or enjoy watching you bleeding to death. They get off on watching you fighting back the tears, getting a lump in your throat, blushing, wanting to cry.
Police Chief Bud McGee: Why do you bring a video camera to school?
Trevor Adams: The same reason you bring a gun to work. To shoot people.
Trevor Adams: Kerosene. Fuse. Match. Boom!
Discussion Forum
Discuss Bang Bang You're Dead on our Movie forum!
News & Features