Barbarella
(1968)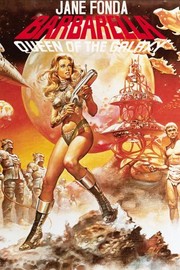 TOMATOMETER
AUDIENCE SCORE
Critic Consensus: Unevenly paced and thoroughly cheesy, Barbarella is nonetheless full of humor, entertaining visuals, and Jane Fonda's sex appeal.
Barbarella Trailers & Photos
Movie Info
A voluptuous outer space agent travels to another galaxy in search of a missing inventor in this science fiction send-up. Barbarella (Jane Fonda), an interstellar representative of the united Earth government in the 41st century, is dispatched to locate scientist Durand Durand, whose positronic ray, if not recovered, could signal the end of humanity. Outfitted in an array of stunning Star Trek/Bond girl outfits and cruising around in a plush, psychedelic spaceship, Barbarella travels to the Tau Seti system and promptly crash-lands. She then spends the rest of the film discovering the joys of interstellar sex with a keeper of feral children (Ugo Tognazzi), a blind, beatific angel (John Phillip Law), and an inept revolutionary named Dildano (David Hemmings). Slowly but surely, she also finds her way to Durand Durand by moving from one exotic, Wizard of Oz-style locale to another. Along the way, she meets the kindly Professor Ping (a surprisingly verbal Marcel Marceau), a Eurotrash dominatrix named the Great Tyrant (Rolling Stones gal pal Anita Pallenberg), and the Concierge (Milo O'Shea), a strangely familiar lackey of the Great Tyrant who tries to destroy Barbarella with his great big organ of love. Jean-Claude Forest, who created the character Barbarella in 1962 for V-Magazine, served as visual advisor on the adaptation. The film's missing scientist character famously inspired the band name of '80s pop stars Duran Duran (who altered the spelling slightly). Almost two decades later, the film also inspired electronic act Matmos, which was named after the aqueous personification of evil unleashed by the Concierge at the movie's climax. ~ Brian J. Dillard, Rovi
more
Cast
News & Interviews for Barbarella
Critic Reviews for Barbarella
Audience Reviews for Barbarella
Based on some comic book I've never heard of, this is swingin' 60s campy sci-fi schlock romp about a gorgeous (and ditzy) outer space agent named Barbarella who is sent to search for a missing inventor and stop any evil threatening to wreak havoc upon the galaxy.

Barbarella is basically a bubbly female James Bond who wears a number of different skin tight space outfits, and somehow usually finds a way to lose varying degrees of said outfits throughout the course of her adventure.. In fact, the movie gets kicked off by having our title character float around in zero gravity and strip her clothes off as the opening credits "try" to cover up some of her more naughty bits.

This is not really a good movie, and it is quite campy, silly, and dumb, but even then, it is quite entertaining, and reasonably fun. The set and costume designs are really cheeky, the music is typical 60s poon palace music, and, despite not doing that great of an acting job, Jane Fonda definitely has a wonderful, likable, and certainly memorable presence as the title character. I also loved the hardly subtle dirty humor and sexual undertones here, definitely making this a product of its time.

If you're bored and want to kill some time (and maybe a couple of brain cells), and don't mind settling for dopey crap, then this would be a wise choice for viewing. It's not great, but it does at least put forth a little bit of effort, even if it ultimately comes up short.
Chris Weber
Super Reviewer
Curvaceous Barbarella flies across the galaxy in her swinging bachelorette pad searching for Duran Duran and, in the process, meeting a blind angel, smoking the Essence of Man in a city of sin, and breaking the Orgasmatron. Kinky, kitschy psychedelic sci-fi fun with unforgettable sets and costumes.
Barbarella Quotes
Barbarella: What are you smoking?
Pipe-smoking girl: Essence of man, darling.
Pygar: An angel doesn't make love; an angel is love.
Dildano: A life without cause is a life without effect.
Discussion Forum
Discuss Barbarella on our Movie forum!
News & Features