Battlestar Galactica: Blood & Chrome (Unrated)
(2012)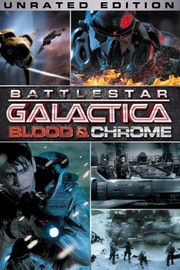 Want to See
Critic Consensus: No consensus yet.
Movie Info
An all-new, unrated chapter in the Battlestar Galactica saga, Blood & Chrome takes place in the midst of the first Cylon war. As the battle between humans and their creation, the sentient robotic Cylons, rages across the 12 colonial worlds, a young, talented fighter pilot, William Adama (Luke Pasqualino, The Borgias), finds himself assigned to one of the most powerful battlestars in the Colonial fleet: the Galactica. Though Adama quickly finds himself at odds with his co-pilot, the battle-weary officer Coker (Ben Cotton, Alcatraz), the two men must set their differences aside when a routine escort mission with an enigmatic passenger (Lili Bordán, Silent Witness) turns dangerous and becomes a pivotal one for the desperate fleet.
more
News & Interviews for Battlestar Galactica: Blood & Chrome (Unrated)
Critic Reviews for Battlestar Galactica: Blood & Chrome (Unrated)
There are no critic reviews yet for Battlestar Galactica: Blood & Chrome (Unrated). Keep checking Rotten Tomatoes for updates!
Audience Reviews for Battlestar Galactica: Blood & Chrome (Unrated)
½
Much of the production team from the incredible Battlestar Galactica series - executive producers, writers, visual effects supervisor, composer - are on hand to bring this lavish, adrenaline-fueled movie set 10 years into the first Cylon War. Conspicuously absent though is the man who gave the show its true heart & soul, Ronald D. Moore. The followup Caprica series was not as well received by fans for its cerebral storytelling, so they went in the opposite direction with Blood and Chrome - this thing is almost all action. There are some dazzling sequences but some are too cluttered and chaotic. I never had trouble following the docu-style shaky cams during the series, but this new director doesn't possess the same skill level with the technique. I also tend to think they used a new effects studio as some of them weren't nearly as special as what we saw in the series. The sheer volume of effects sequences possibly required some cost-cutting measures.

Another problem is the portrayal of Bill Adama as a young cadet who is an asshole right out of the box. I suppose they want to show his growth in maturity from a reckless hotshot, providing a Blood and Chrome series is on the way, but they went too far in creating a character who is by and large incongruous with the older Adama. I started to think of him as Chad Adama, Bill's misfit brother, and it worked much better. I liked much of the rest of he cast though, particularly Ben Cotton as raptor co-pilot Coker.

All in all, it was great donning a flightsuit and manning a Viper once again, and the first sight of the Galactica brought a lump to the throat proving that there are many stories left worth exploring in the BSG universe.
Doctor Strangeblog
Super Reviewer
its entertaining but lacks of anything cool or awesome. I sat through it and I got it for free and I gave it a watch and it doesn't have much of an adventure or cool battle scenes. it goes slow but I feel like the plot doesn't make any sense or catches my eye. all in all not bad but not good just ok
aidan clarke
Battlestar Galactica: Blood & Chrome (Unrated) Quotes
Discussion Forum
Discuss Battlestar Galactica: Blood & Chrome (Unrated) on our Movie forum!
News & Features