Bernie
(2012)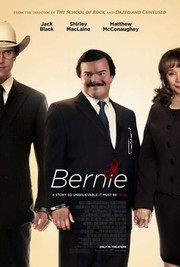 TOMATOMETER
AUDIENCE SCORE
Critic Consensus: Richard Linklater's Bernie is a gently told and unexpectedly amusing true-crime comedy that benefits from an impressive performance by Jack Black.
Bernie Trailers & Photos
Movie Info
In the tiny, rural town of Carthage, TX, assistant funeral director Bernie Tiede was one of the town's most beloved residents. He taught Sunday school, sang in the church choir and was always willing to lend a helping hand. Everyone loved and appreciated Bernie, so it came as no surprise when he befriended Marjorie Nugent, an affluent widow who was as well known for her sour attitude as her fortune. Bernie frequently traveled with Marjorie and even managed her banking affairs. Marjorie quickly became fully dependent on Bernie and his generosity and Bernie struggled to meet her increasing demands. Bernie continued to handle her affairs, and the townspeople went months without seeing Marjorie. The people of Carthage were shocked when it was reported that Marjorie Nugent had been dead for some time, and Bernie Tiede was being charged with the murder. -- (C) Official Site
more
Cast
News & Interviews for Bernie
Critic Reviews for Bernie
Audience Reviews for Bernie
Daniel Mumby
Super Reviewer
This film from Richard Linklater is yet another look at small town life and the seedy underbelly of said small town. It looks at the story of the real life murder of Marjorie Nugent by her friend and partner Bernie Tiede. Using talking head interviews with real life residents of Carthage, Texas as well as actors, the film takes on a documentary style while also being something of a bio-pic. This inclusion of the residents of the town is one of the best aspects of the film and makes it tirelessly unique as well as entertaining. It's not even these engaging interviews that are the best thing about this film. The performances from the leads are, without hyperbole, some of the best of their respective careers. I have loved watching Matthew McConaughey prove himself in indie films for the past several years, and his performance in this film may be his most understated performance yet. He plays the prosecution in Bernie's case, where he is both the small town lawyer that everyone knows and yet the less than congenial shark that looks to put him away. Shirley Maclaine as the contentious and unforgiving benefactress Marjorie Nugent, portrayed as being very cold and calculating in Bernie's interest. In the beginning of the film, when she meets the lead character, you think the film is going to be about the power of love and changing for the better, or even about a young man taking advantage of a woman who is old and frail. Maclaine plays Marjorie as a fearless and conniving woman who doesn't understand the meaning of "no." Jack Black, beyond a doubt, is the driving force of this film, and gives a performance that is so grounded in Southern sensibility and yet irony. He actually met with the real Bernie Tiede, and his dedication to researching the role pays off in a big way. There is no one else who could have pulled off this role better. The film is straight forward and entertaining, but doesn't grip you or surprise at any time, and that's where most of the criticism comes from for this film. It's about a murder and yet it's so happy go lucky and sweet tempered the entire way through, though it needs to be in order to understand why the trial was moved in the first place. It does shift in tone at times but it's not a gimmicky film at all, and creates characters that really say something rather than have personality quirks.
[img]http://images.rottentomatoes.com/images/user/icons/icon14.gif[/img]
Directors Cat
Super Reviewer
Bernie Quotes
Neighborhood Onlooker: There were people in this town, honey, that would have shot her for five dollars.
Cafe Waitress: He must have wanted to get caught, all he had to do was put her body on one of his airplanes. Fly her out over the gulf and push her out. No body. No Arrest.
Churchgoer: Ms. Nugent is in a deep freezer headed for Dallas!
Lloyd Hornbuckle: [the jury] had more tatoos than teeth and not a brain cell among them.
Discussion Forum
Discuss Bernie on our Movie forum!
News & Features