A Better Tomorrow II
(1988)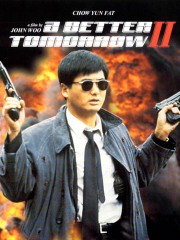 Movie Info
Following the bloody climax of the previous film, *A Better Tomorrow -- again directed by John Woo -- opens with Sung Chi-hi (spelled Tse-ho in the first film though still played by Ti Lung) getting released from jail on the condition that he rat out his gangland associate and a shipyard owner, Lung (Dean Shek). Chi-ti's younger brother, a young cop named Chi-kit (Leslie Cheung), is working undercover on the case and has already gotten into the gangster's good graces by dating his daughter, Peggy (Regina Kent). Fearing that he might put his brother's life in danger, Chi-hi cooperates with the cops. Meanwhile, Lung comes to believe that he is responsible for the death of a competitor and flees to New York. There he promptly goes crazy while under the care of Ken (Chow Yun-fat), the twin brother of the sunglass and trench coat-sporting Mark who died in the previous film. During a gun battle with the Mafia who tried to blackmail the exiled crime boss, Lung miraculously regains his sanity. Together he and Ken return to Hong Kong to settle a few scores. This film's onscreen mayhem was almost matched offscreen. Director John Woo and producer Tsui Hark had radically different views of how the film ought to progress. As a result, Hark reportedly recut the film without Woo's consent, ending a long-time professional relationship between the two filmmakers.
more
Cinema City & Film Company
Cast
News & Interviews for A Better Tomorrow II
Critic Reviews for A Better Tomorrow II
Audience Reviews for A Better Tomorrow II
"Are you OK?" is asked several times to people with white shirt soaked in their own blood. It's a big mess with sloppy jump cuts, rough dolly shots and the theme of brotherhood thrown in wherever it might fit. The ludicrous elements -- including a grief-stricken lunatic running around speaking in tongues amidst flying bullets and Chow Yun Fat happily putting on the coat his twin brother died in, with its bloody-bullet holes -- make it seem like brilliant HK high school students are trying to do a John Woo half-spoof, where every good guy goes joyfully to Hong Kong Valhalla. The final gunfight is equally ridiculous but it saves the whole movie with a few moments of great choreography and spurts of red flying in and out of the frame.
One of the greatest action classics of the 1980's. An unforgettable and adrenaline-pumping action-thriller. IT has one of the most outrageous, chaotic and massively brutal final showdowns ever put on film with a massive and insane body count. A masterpiece plain and simple. An amazing and absorbing action extravaganza. An action ride that tops the gun-fights and explosions of the first as well as it's dramatic aspect and character development.
Discussion Forum
Discuss A Better Tomorrow II on our Movie forum!
News & Features