The Brave Little Toaster
(1987)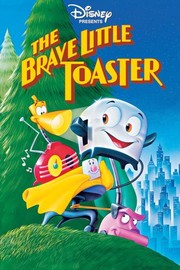 Movie Info
After they are abandoned in their owner's summer cabin, a gang of lovable household appliances, led by a plucky toaster, set off on the long journey home. This animated adventure follows the appliances as they learn to face the challenges of the wilderness -- including the lack of electrical outlets.
more
Kushner-Locke Productions
Cast
News & Interviews for The Brave Little Toaster
Critic Reviews for The Brave Little Toaster
Audience Reviews for The Brave Little Toaster
Curtis Lilly
Super Reviewer
Although I don't quite remember the plot of this movie, I remember really liking it when I was a kid, so I gave it a good rating, I think kids will still like this one today. It's a nice adventure movie, it's cute, and it's unique.
½
A classic, debatably one of the best animated kids movies. It delivers on every level, one of the best Disney movies in a long time. I love that it is essentially about non-emotional objects, but gets you to care about them within 1 minute of screen time. It's the original Toy Story and to me it's way better.
The Brave Little Toaster Quotes
Blanky: Poor Air Conditioner.
Toaster: I didn't think he'd take it so hard.
Kirby: Well, he was a jerk anyway.
Kirby: [Joining the crew] I just know I'm gonna regret this.
Toaster: What are you laughing of?
Air Conditioner: Nothing at all.
Lampy: I think he was laughing of us.
Air Conditioner: You know, you're a bright little lamp.
Lampy: Hey, thanks... [oticing Toaster's angry look]... hey!
Kirby: Why won't you just shut off?
Air Conditioner: Hey, I'm really scared now, Kirby. What are you going to do? Suck me to death?
Discussion Forum
Discuss The Brave Little Toaster on our Movie forum!
News & Features