Bruce Almighty
(2003)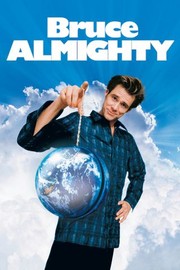 Tickets & Showtimes
Bruce Almighty Trailers & Photos
Movie Info
After a bad day at work, a man suddenly gets a new job -- as the world's new Heavenly Father -- in this comedy. Bruce Nolan (Jim Carrey) is a television reporter working in Buffalo, NY, who has been growing increasingly dissatisfied with his existence, and after an especially bad day, he flies into a rage and curses God for making his life miserable. To Bruce's great surprise, the Supreme Being Himself (Morgan Freeman) appears, and tries to convince Bruce of the enormity of his task. Bruce, however, isn't buying it, so God gives him a chance to find out what he's up against; God bestows all of his powers on Bruce for a week, to see how he'd handle things. At first, Bruce has a great time bending the world around him to his will, much to the puzzlement of his girlfriend, Grace (Jennifer Aniston), but after six days God stops by to remind Bruce he hasn't done much to make the Earth a better place. Disappointed, God presents Bruce with an ultimatum -- he has one day to improve the world in a concrete way, or God will toss the planet back into the void. Bruce Almighty was directed by Tom Shadyac, who previously teamed with Jim Carrey for Liar, Liar and Ace Ventura: Pet Detective. ~ Mark Deming, Rovi
more
Cast
News & Interviews for Bruce Almighty
Critic Reviews for Bruce Almighty
Audience Reviews for Bruce Almighty
Bruce Bruce
Super Reviewer
The definitive Carrey flick. It's really funny.
½
Predictable story, unpredictable Jim Carrey. The star provides laughs and emotion to shroud up that the film had a predictable and cliched story. Freeman makes a great mentor and Carrell comes out a dark horse to make this film that more memorable. 4.5/5
Bruce Almighty Quotes
Bruce Nolan: Is the bed light of my life! Erouting beneath me! Erouuuting! Erouutting! Erouuuting!.. I'm Bruce Nolan. Back to you, fuckers!
Bruce Nolan: Anyway, I'm here with Katharine Hepburn's mum. Now tell me, why did you throw the "Heart Of The Ocean" jewel over the railing of the Titanic? Did you feel bad at all letting Leo DiCaprio drown while you were safe floating on the big door? Would you have taken turns or were you just to afraid to freeze your big fat ASS OFF?
Bruce Nolan: My blood type is IB positive. IB positive that they ain't touchin' me with no needle!
Bruce Nolan: Smite me, O mighty smighter!
Discussion Forum
Discuss Bruce Almighty on our Movie forum!
News & Features