Buffalo Soldiers
(2001)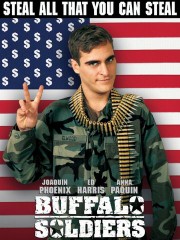 Tickets & Showtimes
Buffalo Soldiers Trailers & Photos
Movie Info
It's 1989. The Berlin Wall is about to fall; but outside of Stuttgart, West Germany, at the Theodore Roosevelt Army Base, Specialist Ray Elwood of the 317th Supply Battalion is about to find his own cold war turn white hot. Elwood's a loveable rogue, a conscript who's managed to turn his military servitude into a blossoming network of black market deals--more out of boredom than ambition. Officially, Elwood has a day job, as battalion secretary to the inept--but caring--Commander Wallace Berman. On the side, he does everything from selling stolen Mop'N'Glo, to cooking heroin for the base's ruthless head of Military Police, Sgt. Saad. When a new top sergeant arrives, with the avowed intention of cleaning up the base, Elwood thinks the new blood is nothing he can't handle. But that was before he factored in the $5 million in stolen arms that just landed in his lap, Berman's jealous wife, an insane Turkish drug dealer, and the resulting lust, betrayal and murder.
more
Cast
News & Interviews for Buffalo Soldiers
Critic Reviews for Buffalo Soldiers
Audience Reviews for Buffalo Soldiers
Quite simply this is a well written, well acted and exceptionally funny film. It follows the story of a soldier in the US army as the Cold War is coming to an end, and the black market exploits that thrive when there is nothing for the soldiers to do. It is also an interesting political take on the chain of command in the military, lampooning the superior officers as incompetent fools, despite having their hearts in the right place, the film manages to successfully create sympathy for Col. Berman (Ed Harris) in that despite his general inability to do the job, he is actually well liked. It becomes increasingly clear towards the end of the film that Elwood (Joaquin Phoenix) has a lot of affection for the man.

All in all a highly successful film, and recommended for anyone who wants a well made, smartly written comedic drama.
Lorenzo von Matterhorn
Super Reviewer
Essentially Air America with tanks set in West Germany, Funny satire with an enjoyable plot.
Buffalo Soldiers Quotes
Pvt. Ray Elwood: There really is no peace. There's always war, somewhere, with someone. And there are no winners or losers, either. Just those who are still around to fight another day.
Col. Wallace Berman: A thousand gallons of Mop and Glow? Do we really need that much?
Discussion Forum
Discuss Buffalo Soldiers on our Movie forum!
News & Features