Cabin Fever 3: Patient Zero
(2014)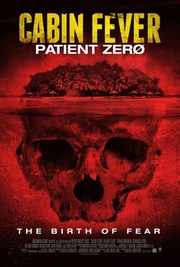 Cabin Fever 3: Patient Zero Trailers & Photos
Movie Info
A group of friends planned the perfect vacation in the Caribbean, but when they head ashore to explore a remote island, their ultimate bachelor weekend devolves into their worst nightmare. After an ill-fated swim in contaminated water, they stumble upon a seemingly abandoned research facility where a deadly, flesh-eating virus has been unleashed. (C) RLJ/Image Entertainment
more
Cast
News & Interviews for Cabin Fever 3: Patient Zero
Critic Reviews for Cabin Fever 3: Patient Zero
Audience Reviews for Cabin Fever 3: Patient Zero
This is a poor sequel to really good horror movie. Underrated horror films like Cabin Fever and Wrong Turn have been ruined with crappy straight-to-dvd sequels that seem to get worse and worse. There are a few moments where Cabin Fever 3: Patient Zero shines and a few moments of decent to good acting, even if is very scarce among poor to downright horrible acting. Some practical effect shine as well and will make any fan of gory horror films happy, but none compares to the original, of course, and there are some moments and make-up that looked more suited for a zombie film. In fact, I'd be giving this film a slightly higher score if it was a zombie film, because there are moments where it totally seems like they were intending for this film to be a zombie film rather than a Cabin Fever film!
½
For starters: it's not a prequel (though they're trying so desperately to sell it as one).

The second half of the movie is so dark that it's hard to distinguish characters from one another and what they're doing... Not that the script they're operating from makes any kind of sense. There are characters who plainly interact with the infected and are miraculously spared any ill-effects while the source of the fever (how it made the jump from bayou country in the USA to the tropical jungles of the Dominican Republic) is completely glossed over... as is the villain's motivation for starting an outbreak. But thankfully we get to see how he pulled off his elaborate scheme all throughout the end credits! Spoiler: it involves his unknown (improbable) Lab Rat Whisperer powers to draw in a test subject.

The only impressive thing here is the gore effects and they don't exactly make the movie worth sitting through.

And they said Cabin Fever 2 had problems... Even with the original director's cut hacked to bits and with an unnecessary second ending stitched on, that movie runs circles around this entry.
Discussion Forum
Discuss Cabin Fever 3: Patient Zero on our Movie forum!
News & Features