La Chienne (The Bitch)
(1931)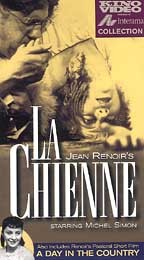 Tickets & Showtimes
Movie Info
Jean Renoir's first sound film was a bitter and highly controversial psychological drama, so controversial that it was never shown in the United States until 1975, 44 years after its original French release. Maurice (Michel Simon) is a meek bank clerk trapped in a marriage with a harridan named Adele (Magdelaine Berubet). Maurice's sole pleasure in life is painting, a hobby he avidly pursues on weekends. One day, Maurice sees a woman on the street being beaten by a man; he steps in to rescue her, and strikes up a friendship with her. Maurice soon falls in love with Lulu (Janie Pelletier), unaware that she's a prostitute and that the man who was beating her is her pimp, Dede (Georges Flamant). Lulu admires Maurice's paintings, and he gives her several canvases; Lulu and Dede then invent an American artist named Clara Wood and place Clara's signature on Maurice's works before selling them to an art dealer, who is quite impressed. Maurice keeps giving money and artwork to Lulu, forgiving her even after he finds out that she's been selling paintings by "Clara Wood" that are earning high prices and enthusiastic reviews. However, Maurice is unaware that Lulu's a streetwalker or that she truly loves Dede until he catches the two in bed together; eventually, love leads to jealous violence and a tragic conclusion. While Pelletier gave a remarkable performance in La Chienne, she was unable to enjoy the film's wide acclaim; she died in an auto accident only a few weeks after shooting was completed. ~ Mark Deming, Rovi
more
Cast
News & Interviews for La Chienne (The Bitch)
Critic Reviews for La Chienne (The Bitch)
Audience Reviews for La Chienne (The Bitch)
Stella Dallas
Super Reviewer
a jean renoir socialistic satire upon the petite bourgeoise..the storyline goes with an elder timid accountant who leads a pathetic life overruled by his critically dispiteful wife, he gets infatuated with a streetwalker one day then fends her as his kept mistress. unfortunately this whore is a miserable slave to her sadistic flanerie pimp, and these two discover the artistic painting talent of this dull acountant, thereafter merchandising his art as their fodder of luxurious living under her name. randomly the accountant murders the prostitue in a rage of passion, but the pimp gets executed for this crime instead. eventually the accountant becomes a shady vagabond on street.

rarely known to most, edward g. robinson's "scarlet street" is fritz lang's adaption from renoir's french original "the bitch"....lang's approach centers more on the psychological interactive drama between these three. lang softens it by transforming the prostitute as a showgirl, the pimp as just an amateur womanizer, the sucker as an ingenuine who longs to live vigorously...lang emphasizes more on the mental trauma of guilt from the main character, thus it's interpretated as the personal tragedy of a romantic steer.

as for renoir's "the bitch", it's social criticism: the pimp stands for the nouveau riche who lies upon the resources of the ghetto(the prostitute) to make his rising fortune by exploiting the bourgeois(the accountant), even including his soothing inspiration of art...the pimp drives his cadillac to extort money from the whore, parking his flashy roadster in the crowd of common people that hinders their daily function, coincidentally he arrives in the bad timing to be the scapegoat of the crime he hasn't committed....it's renoir's severe condemnation on the amoral nouveau riche. after the bourgeois' fund has been drained up, he wanders in the street as ragged bum, cadging small cashes from the merchandizer who purchases the last portrait of himself(his own work) in the antic shop.
Veronique Kwak
Super Reviewer
Renoir did this noir before the movement began
Discussion Forum
Discuss La Chienne (The Bitch) on our Movie forum!
News & Features