Chisum
(1970)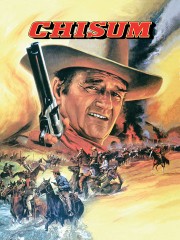 Tickets & Showtimes
Chisum Trailers & Photos
Movie Info
This classic western features (John Wayne) as John Chisum, the tough cattle baron who defends his Lincoln Country ranch from the gang of Lawrence Murphy (Forrest Tucker). When Murphy goes on a land-grabbing rampage, Chisum valiantly defends his territory. A bloody battle for land ensues and Chisum recruits ranch foreman James Pepper (Ben Johnson) to fend off the evil land baron. When Murphy's men kill a trusted friend, Billy The Kid (Geoffrey Duel) and friends go on a shooting spree and kill Murphy's friend, the local sheriff. Soon Pat Garrett (Glenn Corbett) is after the Kid, and Lincoln County is inundated by hails of hot lead. Wayne gives his typical performance as a rugged gunman forced to retaliate when his individual freedom and livelihood are threatened.
more
Cast
News & Interviews for Chisum
Critic Reviews for Chisum
Audience Reviews for Chisum
Dean McKenna
Super Reviewer
½
A pretty bog standard outing for the duke. It ticks all the relevant horse opera boxes, but lacks the inspiration of his collaborations with John Ford.
The candle of the wicked shall be put out.

Rich cattle and land owner John Chisum has formed a brotherhood with an Indian chief, White Buffalo. A general arrives and pushes the envelope that causes a land war to ensue. Chisum will have shootouts versus legal and illegal stakeholders. He will seek the aid of Pat Garrett and Billy the Kid to put those ruining his land and town down.

"Thank you for asking me to come and stay with you."
"I didn't ask you..."

Andrew McLaglen, director of Return from the River Kwai, Have Gun - Will Travel, McLintock, The Wild Geese, The Sea Wolves, and Shenandoah, delivers Chisum. The storyline for this picture is very interesting and weaves nicely with historical characters. The acting and action also isn't half bad and the cast includes John Wayne, Forrest Tucker, Bruce Cabot, Glenn Corbett, and Robert Donner.

"Don't ever get arrested."
"I don't intend to."

I came across this picture on Turner Classic Movies (TCM) and decided to DVR it. This was a Wayne masterpiece with charismatic characters, witty one-liners, and great shootouts. This is a classic western that is worth a viewing and worth adding to your collection if you are a fan of the genre.

"I've heard of you."

Grade: B
Kevin Robbins
Discussion Forum
Discuss Chisum on our Movie forum!
News & Features