Daddy and Them
(2001)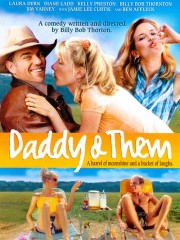 Daddy and Them Trailers & Photos
Movie Info
Billy Bob Thornton wrote, directed, and starred in this serio-comic look at the trials (literally and figuratively) of an eccentric Arkansas family. Struggling musician Claude (Thornton) and his wife Ruby (Laura Dern) get the news that Claude's uncle Hazel (Jim Varney) has been accused of murder and is in jail awaiting trial. Claude and Ruby head for the Alabama town where they grew up, and, before long, there's a friendly (and sometimes not-so-friendly) war of words among the factions of the family, including Claude's mother Jewel (Diane Ladd), father O.T. (Andy Griffith), and sister Rose (Kelly Preston). Daddy and Them's supporting cast includes Jamie Lee Curtis and Ben Affleck as a pair of married attorneys, Brenda Blethyn as Hazel's wife Julia, and Jeff Bailey, and John Prine as Claude's brothers. While Daddy and Them was shot in 1999 -- and would have been his first directorial effort after his breakthough hit Sling Blade -- the film stayed in the editing room for several years, and wasn't released until after his third feature, All The Pretty Horses.
more
Watch it now
Cast
News & Interviews for Daddy and Them
Critic Reviews for Daddy and Them
Audience Reviews for Daddy and Them
Stacy Avary
Super Reviewer
½
Brothers aren't supposed to see brothers on the shitter

Claude and Roby Montgomery are a middle aged couple with no kids and little direction in life. When Claude's uncle gets locked up, they head to Claude's home to show support and attend the court precessions. While in Claude's hometown they'll uncover their true love for each other.

"She's my sister and I love her but I don't like that you fucked her."

Billy Bob Thornton, director of Slingblade, All the Pretty Horses, The King of Luck, and Jayne Mansfield's Car, delivers Daddy and Them. The storyline for this film is nothing special but the character development and script is amazing. The cast delivers outstanding performances and includes Billy Bob Thornton, Laura Dern, Diane Ladd, Kelly Preston, and Andy Griffin.

"The only reason you guys got to church is to show off new clothes. Don't think I don't know shit like that."

I caught this film while flicking through the channels and thought the lines and character interactions were mesmerizing. I could wait to see what happened next throughout the film. I caught myself completely stopping what I was doing so I could see who said what to who and what happened to this person. I loved this film and felt Thornton and Dern were perfect. This movie is worth adding to your DVD collection and is an underrated gem.

Grade: A
Kevin Robbins
This movie if filled with moments of hilarity and moments of insight...but it would all be so much more entertaining if you didn't know that these characters (or at least character types) really exist. Jim Varney's last performance.
Discussion Forum
Discuss Daddy and Them on our Movie forum!
News & Features