Dakota Skye
(2009)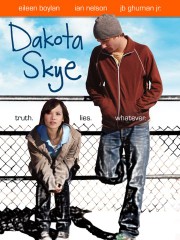 AUDIENCE SCORE
Critic Consensus: No consensus yet.
Dakota Skye Trailers & Photos
Movie Info
A seventeen year old girl with the ability to see the truth in any lie finds her apathy fading when she meets a boy who's unflinchingly honest. For as far back as she can remember, Dakota Skye (Eileen Boylan) has been able to detect lies. Not just that, but as soon as the lie is spoken, Dakota knows the truth behind it. When the people Dakota is supposed to trust most begin telling her the biggest lies, she grows bitter and withdrawn. The lies are snowballing, and as a result Dakota has decided to sit back and simply watch the world spin. These days, the only people Dakota talks to are her boyfriend Kevin, who fronts a popular local rock band, and her best friend Beth from childhood. But all of that begins to change when Kevin's friend Jonah arrives in town for a brief visit. Incredibly, Jonah doesn't lie, and as a result he and Dakota develop a close bond. When Johan professes his love for Dakota, she becomes convinced that there is something more to life than lies, and begins to sense a whole new world of opportunity.
more
Cast
News & Interviews for Dakota Skye
Critic Reviews for Dakota Skye
There are no critic reviews yet for Dakota Skye. Keep checking Rotten Tomatoes for updates!
Audience Reviews for Dakota Skye
♥˩ƳИИ ƜѲѲƉƧ♥
Super Reviewer
½
Cast was perfect for this. They did a great job. I liked the storyline but did seem to get bored pretty easily with it. All-in-all it was a prety good movie, but it could definitely use a little something.
I had read so many good things about Dakota Skye, that I had to track it down and give it a spin. I agree with some of the positive things that have been said about it. The young actors that are the stars were uniformly wonderful and believable. The direction and acting all shared an organic feel, that made it easy to get into the vibe of the movie.

Other than that, I wasn't really wowed by Dakota Skye. The story is interesting enough, and Dakota's ability, while fantastical, actually serves as the emotional groundwork of the movie. Dakota's personality is perfectly reasonable, given her circumstances. I know I'd be as cynical and jaded as she occasionally was. Maybe even more. It's refreshing to see such a well-written character. But beyond that, the movie was never much more than a mildly enjoyable experience. Decent, but not great. I liked the idea more than its actual execution.
Dakota Skye Quotes
Dakota Skye: What if there's no black and white in this world, no good and no evil, no right and no wrong. What if there are no lies, and no truth? What may be a lie to one person, may be completely true to another.
Dakota Skye: Predictable doesn't always mean boring, lust doesn't always mean love, near doesn't always mean close, new doesn't always mean exciting, different doesn't always mean better, far doesn't always mean distant.
Jonah: And you don't have a cellphone because?
Dakota Skye: Somebody might call it.
Dakota Skye: [looking at the grand canyon] That's a big fucking hole.
Jonah: That's a grand fucking hole.
Discussion Forum
Discuss Dakota Skye on our Movie forum!
News & Features