Darkman III: Die Darkman Die
(1995)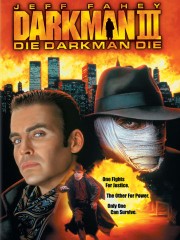 Darkman III: Die Darkman Die Trailers & Photos
Movie Info
Dr. Westlake/Darkman (Arnold Vosloo) is up to his old tricks, stealing from the bad and keeping for himself while still trying to perfect his synthetic skin which only lasts 99 minutes in the light. After stealing from industrialist and mobster/drug dealer Peter Rooker (Jeff Fahey), Westlake is approached by Dr. Bridget Thorne (Darlanne Fluegel) who is engaged to perform an operation to relieve his pain, but instead she implants in his brain a special device that enables his enemies to control him by inducing unbearable pain. With the help of double-crossing Dr. Thorne, Rooker wants to create a new drug based on Darkman's research. But Darkman strikes back by infiltrating Rooker's gang and his life. Darkman even starts to feel drawn to Rooker's wife Angela (Roxann Biggs-Dawson) and her daughter, who are neglected by the real Rooker. But in disguise, Darkman is able to cling to a normal life, posing as a family man. Even though this sequel was filmed before Darkman II: The Return of Durant, it was ultimately decided that it should be bumped back to part three. This direct-to-video sequel is however, in many ways, superior to the first sequel. Fahey makes an excellent villain combining the best of what made Larry Drake and Colin Friels so enjoyable in the original. Vosloo still can't capture the essence and power of Liam Neeson's character portrayal, but he does a good enough job. Fans of the saga will go feverish over this sequel and others with find it fun as well.
more
Cast
News & Interviews for Darkman III: Die Darkman Die
Critic Reviews for Darkman III: Die Darkman Die
Audience Reviews for Darkman III: Die Darkman Die
Dean McKenna
Super Reviewer
ok but not as good as the first two
½
This should have been named Go Away Darkman and please don't comeback, its about as good as Rocky 56 would have been, Its been over 10 years so I guess we will not see anymore of Darkman. Not with this crew of actors anyway. Now that I have seen all 3 Darkman films I like the 1st one best. Liam Neeson made the best Darkman, when making the sequels they should have either waited for Liam or offered him more money and maybe this Trilogy would have taken off. Larry Drake Made the best bad guy in this series and it also sky rocked him in the bad guy roll. But again he didn?t return for Darkman III after all how could he arise from the dead a second time. At the end of Darkman 3 you can see where there is the possibility of a Darkman 4 but it never happen, Thank the Stars. I wouldn?t put Darkman in the class of Indiana Jones , Nightmare on Elm Street, or Die Hard when it comes to Movie Collections, If you get the trilogy as I did for under $10 go for it, if not I wouldn't pay for a copy of this nor would I rent it.
Bruce Bruce
Super Reviewer
Darkman III: Die Darkman Die Quotes
Bridget Thorne: Synthetic skin?... Wow! This is really quite brilliant!
Peyton Westlake/Darkman: Yeah, for ninety-nine minutes... then it's a total failure.
Discussion Forum
Discuss Darkman III: Die Darkman Die on our Movie forum!
News & Features