The Darwin Awards
(2006)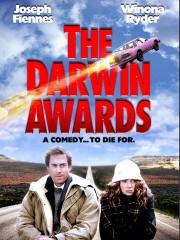 The Darwin Awards Trailers & Photos
Movie Info
When a San Francisco homicide detective with a keen eye for criminal profiling is fired for botching the arrest of a notorious serial killer, his subsequent effort to reinvent himself as an insurance claims case-investigator leads him to study a series of perplexing wrongful deaths in this comedy starring Joseph Fiennes, Winona Ryder, Tim Blake Nelson, and Wilmer Valderrama. Michael Burrows (Fiennes) isn't your typical detective. Though Detective Burrows is a paranoid obsessive-compulsive who faints at the sight of blood, his remarkable insight into the criminal mindset has nevertheless made him a valuable asset to the San Francisco Police Department. When Detective Burrows' idiosyncrasies allow the feared "North Beach Killer" to elude capture, however, he is fired by his superiors. Upon offering his unique skills to a doubting insurance company, Burrows is given 30 days in which to prove he can sort out the legitimate claims from the false ones. Now, as Burrows makes for the Midwest in the company of hard-nosed field agent Siri Tyler (Ryder), the film student (Valderrama) who has been following the former detective for his thesis follows the pair as they investigate a series of forehead-slapping deaths, including that of a powerful executive who attempts to prove that his high-rise window is unbreakable and a pair of English tourists who fatally misinterpret the "cruise control" function on their rented RV.
more
Watch it now
Cast
News & Interviews for The Darwin Awards
Critic Reviews for The Darwin Awards
Audience Reviews for The Darwin Awards
½
Cast: Joseph Fiennes, Winona Ryder, David Arquette, Chris Penn, Max Perlich, Brad Hunt, Tim Blake Nelson, Julianna Margulies, Tom Hollander, Juliette Lewis, Nora Dunn, Lukas Haas, Ty Burrell, Judah Friedlander, Wilmer Valderrama, Alessandro Nivola, D.B. Sweeney, Mickey Breitenstein, Josh Kornbluth

Director: Finn Taylor

Summary: When his tendency to faint at the sight of blood becomes a liability, detective Michael Burrows (Joseph Fiennes) finds himself out of a job. Fortunately, the perceptive profiler has no trouble peddling his skills to an insurance company. Teaming up with field agent Siri Taylor (Winona Ryder), Michael attempts to identify people who might accidentally kill themselves out of sheer stupidity.

My Thoughts: "It''s a very funny quirky film. It's full of odd character's, especially the lead played hilariously by Joseph Fiennes. Winona Ryder is great in this as well. I miss her in films. The movie actually has a very big cast with a variety of actor's. You are shown how doing some pretty dumb thing's can so easily end your life. Though I think the shower scene is the funniest part in the film for me. The film is much better then what the summary describes it to be. It was a great surprise at how much I enjoyed the film and how much I laughed. Great movie for a slow day or night."
♥˩ƳИИ ƜѲѲƉƧ♥
Super Reviewer
The Darwin Awards is a flawed but oftentimes fun movie. Joseph Fiennes and Winona Ryder are great even if their chemistry is iffy at times. This movie is more of a series of funny parts but as a continuous narrative its really lacking. The casting, cameos or whatever were all across the board and I spent a lot of time watching The Darwin Awards distracted wondering what the hell was going to happen next. Then Metallica showed up. Seriously, Metallica is in this movie. The documentary aspect of this movie was its worst part. I understand that it was trying to hold the story together but mostly it was just annoying.
Discussion Forum
Discuss The Darwin Awards on our Movie forum!
News & Features