Death Race 3: Inferno (Unrated)
(2013)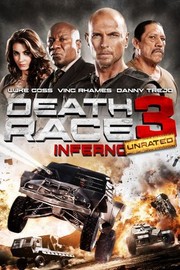 Movie Info
Luke Goss, Danny Trejo and Ving Rhames star in this all-new, unrated adventure where legendary driver Carl Lucas is pitted against ruthless adversaries in the first desert Death Race.
more
Cast
News & Interviews for Death Race 3: Inferno (Unrated)
Critic Reviews for Death Race 3: Inferno (Unrated)
Audience Reviews for Death Race 3: Inferno (Unrated)
Roel Reine's Death Race 3: Inferno takes the death race off-road.Considering the film is a continuation of Death Race 2, the 100 minute story doesn't have to worry about a ton of buildup. Instead, it finds the time for a solid amount of racing with fillers in between. To top it all off, there is a decent plot twist to sum everything up.The speed factor of the death race is taken away in this picture, but the off-road concept of the races proves to be an intriguing factor, complete with a variety of underdeveloped characters and vehicular destruction.Luke Goss does enough to carry this film while Tanit Phoenix provides a breadth of fresh air. Dougray Scott is a fitting antagonist with Danny Trejo, Frederick Koehler, and Robin Shou returning to round out the cast.Death Race 3: Inferno lives up to its title and is a recommendable picture.
One hell of an exhilarating and explosive action-packed thrill-ride from start to finish. A high-octane action sequel to this hard-edged franchise that continues to bring on the heat. A turbo-charged roller-coaster ride. An adrenaline-charged and wickedly entertaining movie that`s big, epic and truly unrelenting. The action sequences are chase scenes are absolutely spectacular. A big mash of blood, metal and explosions from start to finish. An instant non-stop action classic. It`s packed with suspense and a few really great surprises that will just make you love this film more. Director, Roel Rennie delivers another fun and exciting film in the series. A great and outrageously over the top flick. Luke Goss is terrific once again in the lead role of Carl Lucas, showing he is a more than capable action hero and as a tremendous actor. Dougray Scott is excellent and filled with energy.
Discussion Forum
Discuss Death Race 3: Inferno (Unrated) on our Movie forum!
News & Features