Desperate Measures
(1997)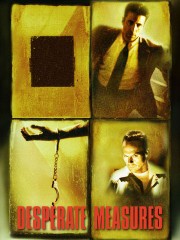 Tickets & Showtimes
Desperate Measures Trailers & Photos
Movie Info
Barbet Schroeder directed this thriller about San Francisco police officer Frank Connor (Andy Garcia) who hopes to save his terminally ill son Matt (Joseph Cross) by locating a compatible bone marrow donor. The potential donor turns out to be convicted murderer Peter McCabe (Michael Keaton), who anticipates the trip to the hospital as an ideal chance to escape. When McCabe makes his move, the hospital becomes a battleground, and Connor is put on the spot: He must pursue and protect the psycho killer who is his son's only hope for survival.
more
Sony Pictures Home Entertainment
Cast
News & Interviews for Desperate Measures
Critic Reviews for Desperate Measures
All Critics (51) | Top Critics (12) | Fresh (5) | Rotten (25) | DVD (3)
Entertainment Weekly
Top Critic
Globe and Mail
Top Critic
Chicago Sun-Times
Top Critic
"Desperate Measures" is a drawn-out, and purely disposable, suspense thriller.
Audience Reviews for Desperate Measures
½
This so-called thriller concerns a cop, trying to save his son's life, who must deal with a homicidal sociopath who happens to be the only suitable bone-marrow donor in the entire civilized world. Yeah, right!
Dean McKenna
Super Reviewer
Peter McCabe: You have to appreciate the irony. After all these years of being locked up, I'm given the opportunity to kill again. A cops kid too, and all I have to do is sit right here.

This movie does a good job at being terrible, but every time it's on, I enjoy watching it. There's just something about it.

A strange combination of Andy Garcia and a particularly good Michael Keaton, who does not get enough work in my opinion, star as cop and criminal.

Garcia has a terminally ill son who needs a bone marrow transplant. Enter Keaton, who plays a killer in jail and happens to be the only one in the area that matches up to Garcia's son.

Upon the time of the operation, Keaton breaks out, basically takes the hospital hostage, and it becomes a cat and mouse game between Garcia and Keaton, except Keaton can't be killed or Garcia's son dies.

The movie has plenty of logic problems, but it is good enough to watch on tv, and Keaton shines.

Peter McCabe: [after agreeing to transplant] These cigarettes are stale. You tell that cop and his dead kid I won't stand for stale cigarettes.
Desperate Measures Quotes
Peter McCabe: If you can't eat it, drink it, fuck it, or fire it, I ain't interested.
Discussion Forum
Discuss Desperate Measures on our Movie forum!
News & Features