Dirt! The Movie
(2009)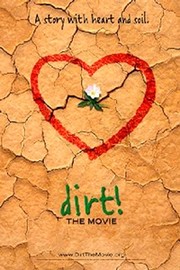 AUDIENCE SCORE
Critic Consensus: No consensus yet.
Tickets & Showtimes
Movie Info
DIRT! The Movie-directed and produced by Bill Benenson and Gene Rosow-takes you inside the wonders of the soil. It tells the story of Earth's most valuable and underappreciated source of fertility-from its miraculous beginning to its crippling degradation. The opening scenes of the film dive into the wonderment of the soil. Made from the same elements as the stars, plants and animals, and us, "dirt is very much alive." Though, in modern industrial pursuits and clamor for both profit and natural resources, our human connection to and respect for soil has been disrupted. "Drought, climate change, even war are all directly related to the way we are treating dirt." DIRT! The Movie-narrated by Jaime Lee Curtis-brings to life the environmental, economic, social and political impact that the soil has. It shares the stories of experts from all over the world who study and are able to harness the beauty and power of a respectful and mutually beneficial relationship with soil. DIRT! The Movie is simply a movie about dirt. The real change lies in our notion of what dirt is. The movie teaches us: "When humans arrived 2 million years ago, everything changed for dirt. And from that moment on, the fate of dirt and humans has been intimately linked." But more than the film and the lessons that it teaches, DIRT! The Movie is a call to action. "The only remedy for disconnecting people from the natural world is connecting them to it again." What we've destroyed, we can heal.
more
Cast
News & Interviews for Dirt! The Movie
Critic Reviews for Dirt! The Movie
All Critics (1) | Fresh (0) | Rotten (1)
Well made if standard issue eco-documentary inspired by William Bryant Logan's somewhat breathless book, Dirt: The Ecstatic Skin of the Earth.

Arkansas Democrat-Gazette
Audience Reviews for Dirt! The Movie
I found Dirt! to be a great work. But I find that I am in the minority, unfortunately. Dirt! is a movie that everyone should watch and think about very, very carefully.It has a lot of pretty important and very pertinent information and perspectives. Which, I admit, are against the general consensus which seems to be of the opinion that the earth is just here for our wanton extraction and harvesation of its resources.

But we aren't. We are just here. And we should respect that. This is the central message I got out of the movie.

Dirt! is actually an enjoyable movie, which is what should be stated first, I suppose. It has cartoons. Cartoon are always fun. I enjoyed the style of the cartooning as well, it was very expressive. It is not as depressing as many environmental movies can get, though, of course, it has its moments.

Dirt! is not a political movie, it is not religious, but it is about some strong opinions and some stark facts and predictions which I think are entirely reasonable if not a little optimistic. (I like to think of myself as a realist: I don't think the glass is half empty, or half full, I think "that glass is twice as big as it needs to be") But even if the movie is, itself, not political or religious or (outrightly) ethical, it will spark some heated debates along all those lines.

All I ask is that when discussing the ramifications expressed in this "Wonderful" (yeah, I'll call it wonderful) movie, you do not regurgitate comebacks that you haven't thought about. Instead, please consider the point of view of the people in this movie. Realize that these are opinions held be intelligent people who have thought long and hard about this stuff and therefore have some very valid things to say. Just as valid as yourself. Discuss it. It's important.
Scaea Coarnia
Discussion Forum
Discuss Dirt! The Movie on our Movie forum!
News & Features