Drive
(2011)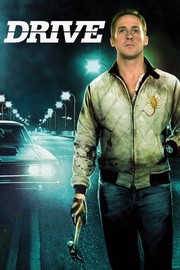 TOMATOMETER
AUDIENCE SCORE
Critic Consensus: With its hyper-stylized blend of violence, music, and striking imagery, Drive represents a fully realized vision of arthouse action.
Drive Trailers & Photos
Movie Info
Ryan Gosling stars as a Los Angeles wheelman for hire, stunt driving for movie productions by day and steering getaway vehicles for armed heists by night. Though a loner by nature, Driver can't help falling in love with his beautiful neighbor Irene (Carey Mulligan), a vulnerable young mother dragged into a dangerous underworld by the return of her ex-convict husband Standard (Oscar Isaac). After a heist intended to pay off Standard's protection money spins unpredictably out of control, Driver finds himself driving defense for the girl he loves, tailgated by a syndicate of deadly serious criminals. But when he realizes that the gangsters are after more than the bag of cash in his trunk-that they're coming straight for Irene and her son-Driver is forced to shift gears and go on offense. -- (C) FilmDistrict
more
Cast
News & Interviews for Drive
Critic Reviews for Drive
Audience Reviews for Drive
This arthouse action-noir is especially successful in what is so hard to see in movies today: style plus substance. Ryan Gosling is fantastic as a sullen, calculating and self-controlled Man With No Name, in a gripping story that perfectly blends a melancholic atmosphere and brutal violence.
½
This film is a very slick and awesome conscious mix of contemporary and retro aesthetics and stylization, and, even though I'd prefer the decade for the retro callbacks to be the 70s instead of the 80s, this is still a wonderfully art directed (and artsy) action film.

Instead of taking a page from stuff like The Fast and the Furious, this is a car movie that, as I mentioned, goes for a far more retro look and feel, yet still throws in plenty of modern sensibilities. It's an action movie, but it's also very artsy, a tad pretentious, and the sort of action film that people would normally hate action movies can get into and enjoy.

In a way, this is a very philosophical film that really grooves on existentialism, mystery, and ambiguity. Our lead is a guy credited simply as Driver, but also referred to as Kid. We don't know his real name, or really all that much about him, aside from surface details. He works in a garage, does part time work as a Hollywood stunt driver, and spends his nights moonlighting as a getaway driver for hire for any criminal that wants him.

He really doesn't say much, but as they say, actions speak louder than words..and when he gets into some nasty business with the mob after a job gone wrong, his responses really get nuts. Mostly that has to do with his neighbor lady (and prospective love interest) getting targeted too, something that Driver just can't stand for, especially since she's an innocent.

So yeah, this film has a very simple, familiar basic premise, and there's not much in the way of character development or heavy , heavy plot, so it's mostly all about the fun stuff like the action and the stunts. What''s funny though, is that the film isn't wall to wall action. When we do get bursts of violence though, they come swiftly, unexpectedly, and things get rather graphic and shocking at times.

Where the film puts almost all of its focus then is on mood, tone, and atmosphere, and, if you dig ambience, then this film will definitely satisfy. The cinematography, music, editing, and all of that is just gorgeous, and the costumes (all hail cool gloves and jackets) rock, as do the cars. The film is sorta deep in a very ponderous way, but I enjoyed it.

It's probably not really as deep as it wants you to think it is, mostly because it is very vague, and the dialogue is quite sparse at times, but hey, sometimes it's okay to just loosen up and let things flow, even if not a long happens (until the sudden bits of violence from time to time). If the film had spent some more time giving insight into the characters, and really developing them a lot more, then I'd definitely bump this up to a full 5.

As it stands though, I just can't quite do that. I do dig the performances here. Gosling is definitely starting to eclipse Depp as the epitome of cool, and there's nothing wrong with that. He's a bad ass, even if his lonely and mysterious ways can sometimes be frustrating. Carey Mulligan is nice as Driver's neighbor/potential love Irene, even if she does spend most of her time looking at him longingly without saying a word. Oscar Isaac is good in his role as an ex-con who decides to play the part atypically. Bryan Cranston also delivers solid work as always as Driver's main business associate. The villains though are where the film gets juicy. Perlman of course is stellar, but yes, as tons of people have already stated many times before, this film features an excellent villainous turn from funny man Albert Brooks. He's played baddies before, but this is the first time he's played one that was legitimately scary, intense, and intimidating. Damn the Oscars for snubbing him, because he's brilliant.

Blah, blah, blah. You should have picked up on how I feel about this film at this point. It's awesome. Go see it. It's not a perfectly brilliant piece of work, but I definitely do think it lives up to the hype.
Chris Weber
Super Reviewer
Drive Quotes
Driver: Now you just got a little boys father killed, you almost got us killed, and now you're lying to me.
Nino: That is one motherfucking, fine-ass, pussy-mobile, mothafucka'! Damn!
Driver: "How about this? Shut your mouth...Or I'll kick your teeth down your throat and shut it for you."
Driver: You give me a time and a place, I give you a five minute window. Anything happens in that five minutes and I'm yours. No matter what. Anything happens a minute either side of that and you're on your own. Do you understand?
Discussion Forum
Discuss Drive on our Movie forum!
News & Features