The Face of Another (I Have a Stranger's Face) (Tanin no kao)
(1967)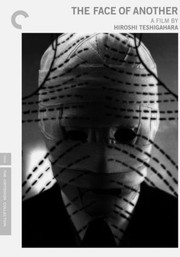 The Face of Another (I Have a Stranger's Face) (Tanin no kao) Trailers & Photos
Movie Info
Bearing traces of both Frankenstein and the 1959 Georges Franju horror classic Eyes without a Face, the Japanese The Face of Another is a disturbing Japanese drama featuring Tatsuya Nakadai. His face horribly disfigured in an accident, Nakadai, a wealthy industrialist, commissions a special mask from a renowned plastic surgeon. Nakadai's wife fails to recognize her husband and makes advances to him, which effectively destroys their relationship. Driven insane, Nakadai turns to murder to compensate for the loss of his identity. The melodramatic elements of the film are neatly blended with moments of erotica and generous doses of existential philosophy. The Face of Another is another thought-provoking "documentary fantasy" from the director of the cult classic Woman in the Dunes. ~ Hal Erickson, Rovi
more
Cast
News & Interviews for The Face of Another (I Have a Stranger's Face) (Tanin no kao)
Critic Reviews for The Face of Another (I Have a Stranger's Face) (Tanin no kao)
Audience Reviews for The Face of Another (I Have a Stranger's Face) (Tanin no kao)
Randy Tippy
Super Reviewer
½
what a brilliant film. entrenched in philosophy, the dialogue in the film and the films entire concept were incredibly profound and thought provoking. nakadai put in a great performance as always and the images produced through some great cinematography were perfect for creating just the right feel for the subject matter. a phenomenal film.
½
A man with a burned face teeters on the brink of madness, torturing himself and his wife with his daily obsessions over appearance and how people are looking at him. He goes to his psychiatrist friend who also happens to be an expert in prosthetics, and is given a lifelike mask to wear, only so the Doctor can observe and study his reaction to the mask. Soon, the man has an entirely new outlook on life, but the doctor wonders if it's the man or the mask that's living this way. There's quite a surrealistic element to this film, especially with the subplot involving a disfigured girl, suicides, and Nagasaki. Unfortunately, these surrealistic elements tend to sidetrack the main narrative rather than enhance it. And while the direction is sometimes amazing, it just as often gets lost in poor editing decisions. There are scenes that have no business being in the movie or being as long as they are, and it slows the story down to a halt. I'm also not quite sure what conclusion the film intends to lead me to. I'm not sure the filmmakers knew what conclusion they were leading me to either. Having said this, I can't deny the film has a certain charisma that draws you in, and the performances by the lead actors are really quite good. In any event, I'd trade a thousand Hannah Montana films for just one film like this. A for effort.
Devon Bott
Super Reviewer
The Face of Another (I Have a Stranger's Face) (Tanin no kao) Quotes
Discussion Forum
Discuss The Face of Another (I Have a Stranger's Face) (Tanin no kao) on our Movie forum!
News & Features