Fantastic Four
(2015)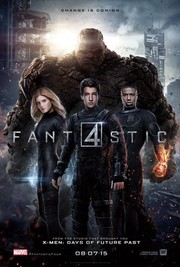 TOMATOMETER
AUDIENCE SCORE
Critic Consensus: Dull and downbeat, this Fantastic Four proves a woefully misguided attempt to translate a classic comic series without the humor, joy, or colorful thrills that made it great.
Fantastic Four Trailers & Photos
Movie Info
FANTASTIC FOUR, a contemporary re-imagining of Marvel's original and longest-running superhero team, centers on four young outsiders who teleport to an alternate and dangerous universe, which alters their physical form in shocking ways. Their lives irrevocably upended, the team must learn to harness their daunting new abilities and work together to save Earth from a former friend turned enemy. (C) Fox
more
Cast
News & Interviews for Fantastic Four
Critic Reviews for Fantastic Four
Audience Reviews for Fantastic Four
Sure, there was potential, but there's just no coming back from that butchered interpretation of Dr. Doom. Who thought that was a good idea?
½
Fantastic Four Review:
Leading up to the release of this film there was a lot of negative buzz surrounding it fuelled by the review embargo which lifts tomorrow. Having now seen the film I can firmly say and you may argue with me the negative buzz is well warranted. Before the last 20 minutes I was willing to give this a 2/5 but alas I cannot. In this review I will cover 4 issues I had with this film.
1. Editing- this film is poorly edited and it shows on screen. A movie should flow and transition seamlessly into the next scene. Fantastic four does not, instead it feels like a series of vignettes- stilted, showcasing glimpses of a good film.
2. Story Progression/Pacing- relates to editing, the story is smack smack smack with not a lot of logic behind anything. Character development and motivation is horrid with nothing happening until the last 20 minutes of the movie. And spoilers they don't get powers until an hour in.
3. Age- actors who are nearing their 30s playing teens is always a worry- sometimes it's pulled off and sometimes it's not in this case it's the later. Everyone suffers from not making their characters more than one dimensional caricatures bogged down by the un-believability of the ages they are playing.
4. Setting- a problem with movies when they use limited settings is they have to utilise them without them becoming stagnant and tiresome. Fantastic four once again fails in this department bogging it's movie down in a film that relies too much of its setting in a lab and thus warrants many yawns throughout.
In saying that the performances were fine and I really was rooting for this to be a good film despite all the buzz around it but alas it just isn't fantastic.
1.5/5
Fantastic Four Quotes
Sue Storm/The Invisible Woman: This is our chance to make a difference.
Sue Storm/The Invisible Woman: This is our chance to make a difference.
Ben Grimm/The Thing: Help me, Reed.
Mrs. Richards: I am smarter than you.
Discussion Forum
Discuss Fantastic Four on our Movie forum!
News & Features