The Five Obstructions
(2003)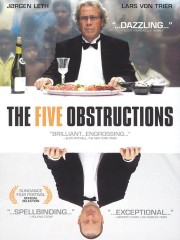 Tickets & Showtimes
Movie Info
Danish auteur Lars von Trier directs the documentary-of-sorts The Five Obstructions (De Fem Benspænd). In 2001, von Trier convinces veteran filmmaker Jørgen Leth to create five remakes of his 1967 short The Perfect Human. Calling himself the Obstructor, von Trier orders Leth to make his films in various parts of the world with extremely specific demands. For instance, the first film must be shot in Cuba with no set with only 12 frames per shot. The five remakes-within-the-film are "The Perfect Human: Bombay," "The Perfect Human: Brussels," "The Perfect Human: Cartoon," "The Perfect Human: Cuba," and "The Perfect Human: Avedøre, Denmark." Each has its own set of ridiculous limitations created by von Trier. The Five Obstructions was shown at the Sundance Film Festival as part of a special screening.
more
Rating:
Unrated
Genre:

Documentary

,

Drama

,

Television

,

Art House & International

,

Special Interest

Directed By:

Lars von Trier

,

Jørgen Leth

Written By:
Sophie Destin, Ole John, Ole John, Jørgen Leth, Lars von Trier
In Theaters:
Nov 7, 2003 Limited
On DVD:
Oct 5, 2004
Runtime:
Cast
News & Interviews for The Five Obstructions
Critic Reviews for The Five Obstructions
Audience Reviews for The Five Obstructions
I noted the time I stopped watching this: 45 minutes into the film. Holy Hannah, it goes on for another 45 minutes according to the jacket. I've spent a long 45 minutes many times in my life. A few oral surgeries come to mind. And only halfway there. Watching the entire thing would be the equivalent of surviving botched oral surgery, with ensuing complications even. I quote the entire Netflix blurb, the one that suckered idiot me in: Danish filmmaker Lars von Trier, a leader in the Dogme 95 movement (which eschewed artificial lighting and props and promoted digital video), is legendary for his one-of-a-kind approach to moviemaking and the memorable fruits of his labors. In this collaboration with fellow director Jorgen Leth, von Trier challenges Leth to remake his 1967 movie The Perfect Human and documents the entire process, allowing viewers to see two geniuses at work. Allowing? Allowing! Oh, mahalo nui loa for the crumbs. Flixster friends, I would call your attention to the word "geniuses." Now I know I'm not a smart man. Perfect proof of this fact is that I often make the stupid assumption that when someone uses a word, say a word like "genius" or "geniuses," that this use of the word somehow matches my own idea of what the word means. In this case, I am disappointed in my clueless assumption yet again. I am not watching my idea of geniuses at work here. What I am watching is two very self-absorbed guys, who aren't geniuses in my universe, playing an irritating game, and that game is boring me to death. If only one of them would pull out a gun and introduce the ultimate obstruction -- killing the other one so the pain/film would end abruptly -- like unexpectedly opening the door so that the string goes taught in surprise and pulls the tooth out instantly, when you least expect it. A move like that would be pure genius in my personal dictionary. Walter, if you haven't already guessed it, I have another winner for our little list. Even worse, I'm particularly po'd right this minute because, in wasting time watching this piece of cruft, I just realized I've missed two-thirds of a two-hour documentary on Thelonius Monk. Dare I say, a "genius" in my book. Borat this borating movie.
½
The premise of "The Five Obstructions" suggests a pretentious egghead jerk-off but, surprisingly, this is one of director Lars Von Trier's most watchable films. Perhaps it's because his Danish comrade Jorgen Leth supplies so much of the content.

In 1967, Leth directed a 13-minute short titled "The Perfect Human." It's a stark, colorless film where most action occurs within a shapeless, white void. There are just two onscreen actors. A man and a woman, drolly presented as the ultimate examples of our species, simulate various mundane behaviors while deadpan narrator Leth describes their activity. It's a film with a curious, aloof appeal that's difficult to articulate.

Decades later, Von Trier tests his friend Leth to remake this short five times while obeying some perverse, arbitrary rules (or "obstructions"). Von Trier's apparent goal is to tear down the protective artifice of filmmaking and force Leth to "expose" himself. The stipulations include having no shot longer than 12 frames, Leth taking the lead role, filming in Cuba, filming in the most miserable location Leth knows (answer: a crowded Mumbai slum) and even making a cartoon (a form that both men openly detest).

Von Trier is a notorious character with oft-observed sadistic tendencies and, indeed, there is something unsettling about his manner. His mix of cruel demands, polite demeanor and a tiny, crafty smile recalls Nazi stereotypes (regardless of his recent Hitler-related controversy). But the affectionate rapport between him and Leth is sweet. Also, the resulting five shorts are quite entertaining. "The Five Obstructions" is incredibly self-indulgent, but film nerds will enjoy this gentle battle of wits.
Discussion Forum
Discuss The Five Obstructions on our Movie forum!
News & Features