Ghajini
(2008)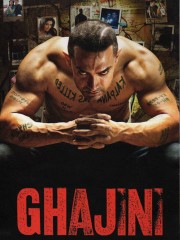 Ghajini Trailers & Photos
Movie Info
The plot of A.R. Murugadoss' Ghajini borrows heavily from Christopher Nolan's Memento. Sanjay (Aamir Khan) suffers from short-term memory loss. He spends his days attempting to take revenge on those responsible for the death of his girlfriend, but his condition complicates this process. To help him, he constantly makes notes for himself. Some of the notes take the form of crude homemade tattoos.
more
Cast
News & Interviews for Ghajini
Critic Reviews for Ghajini
Audience Reviews for Ghajini
½
Much more than just a Bollywood version of ?Memento?, it offers a much more in depth background story which builds nicely to a revenge plot. The occasionally songs throughout the film were entertaining and fit well as do the soundtrack songs.

The flashing back and forth in time provided a good order in which to tell the story and is much different to ?Memento? in that respect also.

Aamir Khan played a an impressive lead role here, with a quite a transformation in character, who with a very athletic physique, provides some enjoyable fight scenes and moves.

Lengthly, but a very enjoyable watch and has instantly become part of my favourite films list.
Ghajini is a movie that instantly became a favorite of mine after watching it. While I'm certainly no expert in the drama genre, I will say this movie provide an experience anyone could enjoy.

Ghajini is about a student who is endangered after she warns a wealthy male that a crazed recluse with short term memory loss is out to kill him, not knowing the reason behind the recluse's actions. If you watched Memento than you know what you'll be getting into with this movie. Ghajini borrow heavily from Memento, but it has enough original ideas to have it own identity. It has everything you could want in a well told story as it has a hateful villain, deeply developed characters, a fascinating hero, and finally a balance between the light hearted and serious scenes. It's truly a masterpiece in storytelling and it's certainly something I won't forget anytime soon.

From a technical standpoint it's visually appealing and poetic creating the right emotion for our characters and the story itself. I'm also going to give praise to the cast, especially Amir Khan who stole the show as Sanjay. I especially loved Asin Thottunkal who isn't another pretty face as a love interest, her character is very likable and well developed that she's easily one of the best love interest ever written for a movie.

I'm no stranger when it comes to giving a perfect rating for a movie, but there are some things that viewers won't get behind as not everybody shares the same opinion on movies. Some will probably hate how it goes from a serious drama to a love story out of nowhere, the random musical numbers, and finally the length of the movie. Now I welcome it creative storytelling (I even liked the musical numbers) and it length wasn't a problem for me as I got behind Amir character and the more I got to see his story revolve the more the movie grabbed my attention. Now while these flaws may be a problem for some viewers, I personally had no problem with these flaws.

Ghajini is a movie that provides a emotionally deep fascinating story, visually stunning cinematography, a great cast, and gives you a memorable experience. Ghajini is a must watch movie that provides all the goods you could want in a good movie.
Caesar Mendez
Super Reviewer
Discussion Forum
Discuss Ghajini on our Movie forum!
News & Features