Glen or Glenda?
(1953)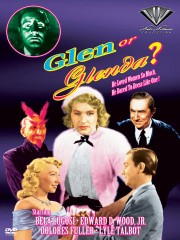 Tickets & Showtimes
Glen or Glenda? Trailers & Photos
Movie Info
In his heart-felt cinematic debut, Edward D. Wood, Jr. himself stars under the pseudonym Daniel Davis as a young man with a dilemma: should he tell his lovely young fiancee (played by real-life girlfriend Dolores Fuller) about his burning desire to cross-dress? She has begun to notice articles of clothing missing from her closet; the suspense builds...what should he do? Bela Lugosi plays the omniscient narrator; note his conviction as he "pulls the strings." Amidst this unintentionally hilarious mish-mash of melodrama, social commentary and inexplicable stock footage, there is something for every taste: countless cross dressers, hallucinatory dream sequences, sex-change surgeries, spirited cat fights, borderline-pornographic simulated sex scenes, poetic monologues, a haunted house, and a stampede of wild buffalo. Released under various titles across the country -- I Lived Two Lives, I Changed My Sex -- this fiasco bombed across the board but managed to gain Wood enough notoriety in the "B"-movie world to launch a career that is today the stuff of legend. Hailed by most critics as the worst film of all time, Wood nearly matched his first effort with such atrocities as Bride of the Monster, Night of the Ghouls, the infamous Plan 9 from Outer Space, and, perhaps the world's first topless horror film, Orgy of the Dead. Although few may count Wood among the best American cinema has to offer, Glen or Glenda certainly places him among its most memorable.
more
Cast
News & Interviews for Glen or Glenda?
Critic Reviews for Glen or Glenda?
Audience Reviews for Glen or Glenda?
A documentary, of sorts, about a closeted transvestite named Glen who struggles over whether to tell his secret to his fiancée. The story is interrupted by a bizarre 14-minute dream sequence with bondage and the Devil, and numerous incomprehensible bits with omniscient "scientist" Bela Lugosi yelling "pull the string"! It's terrible, and it's great, so the rating averages out. A must-see for adventurous viewers, but those with more conventional tastes will find its lack of plot and structure to be torture.
Part docudrama, part art house film, all idiosyncratic/eccentric in the extreme. Yes, this is a bad film, not the worst of all time (any more), but still quite bad, mainly due to the incoherent nature of the story and the poor execution/ineptitude of those involved with its creation. There are some standout moments though, especially those involving Bela Lugosi's nonsensical ramblings.

If you really want to see something surreal and bizarre, then give this one a watch.
Chris Weber
Super Reviewer
Discussion Forum
Discuss Glen or Glenda? on our Movie forum!
News & Features