Gunless
(2011)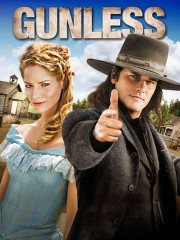 Movie Info
When notorious American gunslinger, The Montana Kid, staggers into the tiny Canadian hamlet of Barclay's Brush, life for the town's 17 inhabitants is about to get exciting. The Kid immediately gets into an unfortunate altercation with Jack, the town's surly blacksmith, which leads to The Kid 'calling him out' for some good old frontier justice - a showdown. But in a place totally ill prepared to deal with a classic gun fight and without a single working pistol to be found, adhering to the code of the American Wild West may prove difficult. Not able to let go of the 'code', The Kid remains stuck in Barclay's Brush, getting drawn into a strange world of eccentric rituals and characters; among them Jane, a smart sassy woman who becomes his only hope of finding a way out...or perhaps his only reason for staying... -- (C) Alliance
more
Watch it now
Cast
News & Interviews for Gunless
Critic Reviews for Gunless
All Critics (6) | Top Critics (3) | Fresh (2) | Rotten (3)
Gunless is harmless, the sort of pop entertainment that sets its sights low and doesn't underachieve.
Globe and Mail
Top Critic
A comedy western loaded with chuckles that only occasionally fires blanks.

Like Shane with whimsy, Gunless takes the hoary old template of the gunfighter movie and gives it an utterly Canadian spin based on our comfort myth of niceness.
Gunless is certainly eager to please. Yet for all of its broad humour and cheeky pleas to patriotism, the laughs in this comedy prove to be scarcer than teeth in Gabby Hayes' head.
Audience Reviews for Gunless
½
I liked Gunless a lot more than I thought I would. As with other projects involving Paul Gross (Men with Brooms), this is a spoof that's not always laugh-out-loud funny, but one that's quirky and still strangely compelling. This latest is better than much of the stuff Gross has starred in so far - maybe because this time, he just acted, and didn't do all the writing, directing and producing that he did for Passchedaele and MWB.

Gunless has a few slips. It lulls a little, and some jokes fall a bit flat, but I think big Western fans will get a kick out of this one. What's more, as with much of Gross's work to date, the film is very pro-Canada, and makes light of the classic (stereotyped) differences between Canadians and Americans. The story holds up whether you take it seriously or lightly, and it's enjoyable as a result - regardless of how many winks and nods you catch.
½
In "Gunless," the Montana Kid(Paul Gross) has felt better than when he arrives in the sleepy town of Barclay's Brush, Canada, slumped over his horse which is also dragging a large tree branch behind it. Since he is in a foreign country, he might be forgiven if he has does not think that any of the natives speak English while showing disdain for Queen Victoria. As much as he would wish otherwise, he is not going anywhere as he could certainly use a bath and pants once the bullet is removed from his backside. He could also use a part for a gun, after challenging Jack(Tyler Mane), the blacksmith, to a shootout. While disapproving of his general behavior, Jane Taylor(Sienna Guillory) still offers Montana a place to stay in exchange for fixing her windmill.

"Gunless" is an appealing northern(for lack of a better word) which again proves that Paul Gross belongs on horseback as one of the five current actors who rock a cowboy hat.(4 if Clint Eastwood has retired from acting.) He is matched well with Sienna Guillory and Graham Greene is always a welcome presence. As light as the movie is, it is not as broad as I thought it might be, thankfully not shying away from the darker story aspects, revealing many a hidden truth in general. Specifically, the movie also serves as a gentle allegory on the subject of American foreign policy belligerence(For the record, Bill Hicks also used a western to illustrate the subject).
Gunless Quotes
Jon: The town hasn't seen this much excitement since Larry accidentally set fire to his prize ewe.
The Montana Kid: Just when you thought it couldn't get any worse.
The Montana Kid: What kind of a man picks up another man!?
The Montana Kid: Tell you what. I'd kill for some more potatoes.
Discussion Forum
Discuss Gunless on our Movie forum!
News & Features