Hardware
(1990)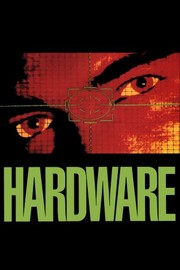 Tickets & Showtimes
Hardware Trailers & Photos
Movie Info
Richard Stanley's cyberpunk thriller stars Dylan McDermott as Mo, a survivor of a post-apocalyptic future world who makes a living selling salvaged machinery. When some robot parts he's collected rebuild themselves, the reborn creature sets out on a murder spree.
more
Watch it now
Cast
News & Interviews for Hardware
Critic Reviews for Hardware
Audience Reviews for Hardware
½
Post-apocalyptic, cyberpunk horror based on a short comic book story called "Shok" about a self-repairing combat cyborg that terrorizes a lady in an apartment block. Pretty good I thought. I liked its interpretation of a post nuclear holocaust world. Pretty cool soundtrack too with cameos from rock legends Iggy Pop and Lemmy from Motorhead. Takes a while for the action to get going but there are a couple of awesomely bloody deaths. As for the cyborg itself I didn't find it too menacing really and it moved quite awkwardly too, the low-budget obviously played its part in the special-effects department. But the "M.A.R.K. 13" does have enough character to make it as memorable as other villainous robots like "ED-209" from the Robocop films. Good film overall, but not great. It's earned its cult status though.
Crtics have hailed Hardware as a misunderstood post apocalyptic masterpiece in the tradition of Mad Max.
Having watched it, I initially had mixed feelings about this film. It's raw, gritty and it's low budget only adds to the films energy. The biggest problem I had with the film is the characters, I felt they were not well developed and not likeable. The acting is standard B movie shit and you really don't care for the characters in the end. The movie itself is awesome for it's violence, and when it starts, boy does it start. This film lacks character, and plot developpement but really delivers in the violence department. This is a picture that needs multiple viewings to really like it, but in the end; this film is in the you either love it or hate it category. The plot is very simple, and effective. A soldier finds parts of a robot in the desert and brings it to his sculptor girlfriend. The Robot turns out to be a Mark 13 robot, a killer bot designed to control the human growth population. The only thing now is that the droid goes on a killing rampage and kills everything in his path. The gore factor for the film is high, and the film will definitely make you bit your nails. But Hardware isn't a film that has a great story, the film relies more on the on screen violence to create the Horror. Theres plenty of destruction going on here, as the Mark 13 droid kills everything in his path. Even though the film feels low budget, this still a fairly well done Sci Fi horror flick, though lacking in plot, it makes up for it in thrills. Hardware is a violence driven film, and in some case it works, which is the case with this film. A wicked post apocalyptic style film set in a dystopian society. Alkso worth mentioning is a cool cameo by Lemmy from Motorhead.
Hardware Quotes
Discussion Forum
Discuss Hardware on our Movie forum!
News & Features