Homeward Bound II - Lost in San Francisco
(1996)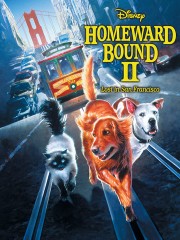 Homeward Bound II - Lost in San Francisco Trailers & Photos
Movie Info
In this family film, courageous four-legged wanderers Shadow, Chance, and Sassy are lost in San Francisco. As they try to make it back home, the trio must deal with an entirely new set of dangers and foes, including dognappers who want to sell the trio to animal researchers.
more
Cast
News & Interviews for Homeward Bound II - Lost in San Francisco
Critic Reviews for Homeward Bound II - Lost in San Francisco
Audience Reviews for Homeward Bound II - Lost in San Francisco
Homeward Bound II is a fairly useless sequel to a good film. Personally I don't see why they made a sequel, they basically took the same plot changed it a bit, and made the same movie using a different setting. This is a perfect example of an uninspired sequel. The film could have been good, unfortunately if you've seen the first, then you know exactly what to expect watching this sequel. This sequel suffers from its predictability and becomes uninteresting halfway through the film, because, after all, we know what will happen. The cast of the original film return, along with the voice actors who did the voices of the lost animals. This could have been a good film, but the writing is poor and the directing is unimpressive. Like I previously stated, the film is predictable, and it's what make this film pretty worthless and uninteresting. However, the mediocrity of this sequel this still does have some sort of entertainment value for the entire family. Just don't expect a solid sequel, because this is the same thing as the first. The first film is the best, and this film was simply made in order to cash in on the success of the first. This sequel is proof that sometimes sequels are not necessarily a good thing, and the film is pretty dull, and unimpressive. Stick with the original film; it's better than this unnecessary sequel.
Homeward Bound was not a movie that needed a sequel. This one has more of the same from the first one, it has nothing new to say, except that they're in Frisco instead. Overall, it's just okay.
Homeward Bound II - Lost in San Francisco Quotes
Riley: Sorry shadow I had the whole gang out looking for him the dog is just not around but if you want to go to the bridge we have to leave now.
Shadow: But I just can't leave him here.
Sassy: But Shadow we can't keep staying here either think about Hope think about Peter.
Shadow: Well I do miss Peter.
Riley: Is that a yes?
Sassy: Believe me that's as close to a yes as you'll ever get.
Riley: Okay let's shake some booty or as James Brown would say, we're going to the bridge hey!
Shadow: We can't leave until we find, Chance.
Sassy: Why not?
Shadow: You know you miss him.
Sassy: Oh all right I miss his stupid face and his stupid laugh and his stupid stupidness!
Shadow: Oh Sassy stop it!
Sassy: And I'm stupidly starting to worry about him!
Discussion Forum
Discuss Homeward Bound II - Lost in San Francisco on our Movie forum!
News & Features