House II: The Second Story
(1987)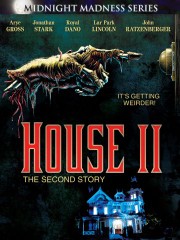 Movie Info
The evil dwelling from the first House film becomes the residence of a young couple who move in, only to battle the Aztec ghosts who already reside there.
more
Cast
News & Interviews for House II: The Second Story
Critic Reviews for House II: The Second Story
Audience Reviews for House II: The Second Story
½
Steve Miner made a fun little horror film in 1986 by the name of House. A year later, House II: The Second Story would appear. Like the first film, it has a tongue in cheek approach to the material, and it doesn't take itself seriously. Unfortunately, this film is inferior to the first and it lacks the charm that the original delivered. Nonetheless, this is a decent affair, but is never anything remarkable either. The scares are mild and it plays out like a so-so horror comedy. The film could have been better, but the first one wasn't excellent either. Despite the film's flaws, it is entertaining for what it is, and fans of the first should enjoy this one as well. Acting wise, Jonathan Stark gives a good performance here, but he we was much better in Fright Night. The film had potential of being a great sequel, but in the end it's a decent one at best. Towards the middle of the film, it does get a bit silly and it becomes a bit flat in terms of effective horror comedy. Overall it's mildly amusing film that's worth seeing if you enjoy mindless movies. Director Ethan Wiley's direction leaves a lot to be desired, and despite the flaws, he manages to make something watchable. However it is not as fun as the first House, and this one could have been much better too. The script lacks at times, and it does feel rushed, but this a film to watch if you have nothing else better to do. The actors do what they can with the lacking material, they make it amusing for the viewer looking for a decent horror comedy to watch.
½
The sequels to House just seem to go further and further from the from the first movie, and this was the first big step away. This movie is a ridiculous, somewhat funny, western infused, sci-fi adventure movie that takes place in a haunted house. It wasn't at all what I expected, but not in a good way. I would not recommend this silly movie.
House II: The Second Story Quotes
Gramps: I ain't gonna die if it's the last thing.
John: Who are you supposed to be, Bozo the Clown?
Charlie: No, Bozo the Death Machine.
Discussion Forum
Discuss House II: The Second Story on our Movie forum!
News & Features