Howl's Moving Castle
(2005)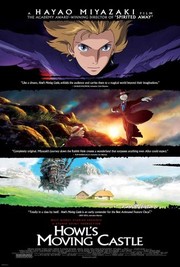 TOMATOMETER
AUDIENCE SCORE
Critic Consensus: Exquisitely illustrated by master animator Miyazaki, Howl's Moving Castle will delight children with its fantastical story and touch the hearts and minds of older viewers as well.
Howl's Moving Castle Trailers & Photos
Movie Info
Hayao Miyazaki, the Japanese animation director who wowed audiences worldwide with his award-winning film Spirited Away, brings another visually spectacular tale of imagination to the screen. Sophie is an 18-year-old girl who toils in the hat shop opened years ago by her late father. Often harassed by local boys, one day Sophie is unexpectedly befriended by Howl, a strange but flamboyant wizard whose large home can travel under its own power. However, the Witch of the Waste is displeased with Sophie and Howl's budding friendship, and turns the pretty young woman into an ugly and aged hag. Sophie takes shelter in Howl's castle, and attempts to find a way to reverse the witch's spell with the help of Calcifer, a subdued but powerful demon who exists in the form of fire, and Markl, who protects the four-way door which can instantly take visitors to other lands and dimensions. Howl's Moving Castle was released in North America by Walt Disney Pictures, who distributed the film both in its original Japanese and in a dubbed English version; the English-speaking voice cast includes Christian Bale, Emily Mortimer, Jean Simmons, Lauren Bacall, and Billy Crystal. ~ Mark Deming, Rovi
more
Cast
News & Interviews for Howl's Moving Castle
Critic Reviews for Howl's Moving Castle
Audience Reviews for Howl's Moving Castle
While the plot may seem a bit derivative (as well as the score and the characterizations) when compared to Miyazaki's greater works, this captivating animation is nevertheless an entertaining adventure of enchanting visuals and an always delicious sense of humor.
½
Probably Miyazaki's weakest film, but still plenty of good stuff to offer. Once again (it's almost a given at this point) the animation is absolutely top-of-the-line and the raw creativity presented in the uniquely magical steam-punk settings (Howl's mobile castle, which is an absolute wonder of animation) shines with child-like bliss. The characters are also thankfully another strong point and the relationship between Sophie and Howl leads to some interesting character development. There is also a delightful array of side characters such as Calcifer (hilariously voiced by Billy Crystal), the scarecrow, and the Witch of the Waste (whose development takes a truly unexpected turn in the second half).

Thankfully the imaginative world and characters are strong enough to overcome the erratically messy plot (complete with a rushed and nonsensical ending), under explained plot points (The reason for the war, inconsistent effects of Sophie's curse.), and a boring villain. I feel Miyazaki is at his best when telling minimalistic stories with layered visual storytelling, 'Howl's Moving Castle' simply suffers from trying to do a tad too much at once.

Not quite on the level of his masterpieces, but even Miyazaki on his off-day is still better than many filmmakers on their best day.
Howl's Moving Castle Quotes
Howl (English Version): You're looking well, Madame Suliman.
Madam Suliman: Rather weak disguise. Didn't I teach you better?
Howl (English Version): I'm not trying to outwit you. I kept my oath. I reported when summoned. Now 'mother' and I will go.
Madam Suliman: I think not.
Howl (English Version): You're wearing that hat after all the magic I used to make your dress pretty?
Howl (English Version): Go away.
Sophie (English Version): No. I'm not going away. I'm going to help you break this spell that you're under.
Howl (English Version): You? You can't even break your own spell.
Sophie (English Version): But you don't understand. I love you.
Howl (English Version): You're too late.
Sophie (English Version): Howl no!
Sophie (English Version): Your head's a turnip. I've always hated turnips, ever since I was little. Well, at least you're not upside down now. So long.
Discussion Forum
Discuss Howl's Moving Castle on our Movie forum!
News & Features