I Hope They Serve Beer in Hell
(2009)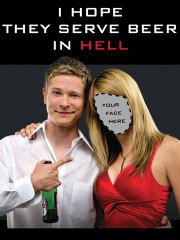 TOMATOMETER
AUDIENCE SCORE
Critic Consensus: I Hope They Serve Beer in Hell fails in its attempts at raunchy humor, and Tucker Max comes across so unlikable and outrageous that the film's inevitable story arc feels forced.
I Hope They Serve Beer in Hell Trailers & Photos
Movie Info
Earning the type of divisive emotional responses normally reserved for those on the far right or the far left of the political spectrum, writer Tucker Max celebrated his debauchery-driven lifestyle in the memoir I Hope They Serve Beer in Hell. Now Max earns credit as both co-screenwriter and producer of the film adaptation with this comedy from Niagara Niagara director Bob Gosse. In the film, Tucker (Gilmore Girls' Matt Czuchry) behaves very badly at his friend's bachelor party, getting his invite to the nuptials revoked. Can he renounce his (not-so) inner selfish jerk in time to recapture his invitation? I Hope They Serve Beer in Hell also stars Geoff Stults, Jesse Bradford, and Traci Lords. ~ Kimber Myers, Rovi
more
| | |
| --- | --- |
| Rating: | R (for nudity, strong sexual content including graphic dialogue throughout, language and some crude material) |
| Genre: | Comedy |
| Directed By: | Bob Gosse |
| Written By: | Tucker Max, Nils Parker |
| In Theaters: | Sep 25, 2009 Wide |
| On DVD: | Jan 26, 2010 |
| Box Office: | $1.4M |
| Runtime: | |
Cast
News & Interviews for I Hope They Serve Beer in Hell
Critic Reviews for I Hope They Serve Beer in Hell
Audience Reviews for I Hope They Serve Beer in Hell
I'm a big Tucker Max fan, and I read his book religiously. This film is based on Max's heralded, cult classic, best-selling book I Hope They Serve Beer In Hell. The book is nothing more than a collaboration of short stories about random nights out drinking with his buddies and having sex with random women. His stories, in essence even if they are fabricated or exaggerated as some have claimed, are pure comedic gold. His savvy charm and his sparkling wit makes every guy want to be him and every girl want to be with him. Through his book of course, a portrait is painted of Tucker Max that renders him endearing despite his self-indulgent, chauvinistic demeanor. This majestic dickhead, so to speak, would be awfully hard to pull off on the big screen. This daunting duty went to a no-namer Matt Czuchry, who actually pulled off a very convincing funny heartless bastard; but however, he failed to be likable in anyway possible. Another aspect of this film that drew hesitation from me would be the script itself. The book doesn't flow like your typical story... it's just a collaboration of Tucker's random nights out on the town, there's no real story arc. So of course what we get is a very linear, predictable, over-hashed bachelor party storyline. Tucker Max himself wrote the script, and even deemed it far better than comedic powerhouses The Hangover and Wedding Crashers. Hopefully the enormous belly flop this film took humbled our author a little... but probably not. Loyal fans of the book, like myself, will recognize a lot of his stories in the plot. It's also undeniable to admit that Tucker's cruel sense of humor is actually funny. However, the film fails to capture the comedic brilliance of the book, but Tucker's followers will still be pleased. It's a good, mindless laugh.
I Hope They Serve Beer In Hell is yet another in the continuation of films trying to carry the jock of the film known as Bachelor Party, failing miserably in the process. The basic premise is that Drew (Jesse Bradford) is getting married, but his fiance doesn't want him going to a strip club three hours away. The local strippers are fine, but not elsewhere. Maybe she worked there or something. I don't know, but serial sex pervert Tucker (Max Czuchry) has other plans, which include using his friends impending marriage as an excuse to go far, far away and hump a midget stripper. Throw in Drew (Geoff Stults), who is the token guy who just got dumped and hates all women (remember Bachelor Party?). All hell breaks loose, there's anger, there's midget sex, and everything works out in the end. Right?

Now the first mistake that will happen is the comparisons with The Hangover. First, The Hangover was actually funny with a plot that worked. I Hope They Serve Beer In Hell is shit, a massive, steaming pile of crap that just sits there waiting for the next crap scene that makes little sense. The acting is garbage, the script is worthy of a nice flushing with characters that are not even one dimension. Can we go to fractions on this? The characters did the same schtick for the 90 plus minutes of the film, even until they have their moments of clarity. This movie goes no where, which is fine when the film is actually funny. Hell will be 24 hour showings of this film and Spider-man 3 over and over again. Hitler is probably watching this film right now.
I Hope They Serve Beer in Hell Quotes
Discussion Forum
Discuss I Hope They Serve Beer in Hell on our Movie forum!
News & Features