Ice Age
(2002)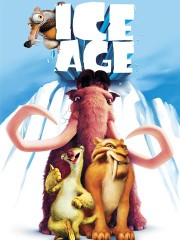 TOMATOMETER
AUDIENCE SCORE
Critic Consensus: Even though Ice Age is treading over the same grounds as Monsters, Inc. and Shrek, it has enough wit and laughs to stand on its own.
Ice Age Trailers & Photos
Movie Info
Set against the onslaught of the ice age -- and a world filled with wonder and danger -- the story revolves around three unforgettable characters: a wooly mammoth, a saber-toothed tiger, and a sloth, who unite to return a human baby to his tribe.
more
Cast
News & Interviews for Ice Age
Critic Reviews for Ice Age
Audience Reviews for Ice Age
I gotta say when this first came out, I didn't care for it at all. Everyone else seems to enjoy it, but I find it kind of boring and the animation just not that great compared to other movies. Rewatching it, I found not much has changed in my opinion. The characters are still borderline boring, the animation weak, and the story is pretty weak also. About some ice age misfits trying to save a human infant and all the mishaps that get in the way on their adventure. The voices are "meh, just ok" as Ray Romano, John Leguizamo, and Denis Leary lead the cast. The one saving grace for the franchise is Scrat. He's half rat, and half squirrel, and doesn't talk. He just makes weird noises, and his only goal in life is to get an acorn. He is pretty darn funny, and in my opinion the sole reason to watch this cartoon. Now I have yet to watch part 2, but I did see part 3 in the theater and thought it was an improvement. Hopefully the series gets better, as this first installment just doesn't hold up to animated standards that have been set by recent franchises like "Shrek" and "Madagascar." Still though, kids will love it(Grant dug it!), and with movies like this, that is all that really matters.
Watching this film from a kids adventure standpoint, it is probably one of the best animated adventure films I have ever seen. It may not be wholly original when you look at the dialogue being delivered, but overall, it is bright, colourful, and funny. The emotion begins when a kid is taken from his tribe and three animals (a mammoth, a sloth, and a saber-tooth tiger) are trying to save him. They are then being hunted for being accused of stealing the kid. This film is very fun to watch and the freshness will never fade away. Dreamworks never fails with their animation, because the visuals are absolutely gorgeous! "Ice Age" is a great film for all ages!
Ice Age Quotes
Diego: Listen! I can help you!
Manny: It's ok Sid, we'll find our way out.
Diego: You can't the currents too strong, you have to trust me.
Manny: Trust you! Why on Earth would we trust you?
Diego: Because I'm your only chance.
Diego: Get down! Get down, and follow me.
Manny: What are you saying?
Diego: There's an ambush waiting for you.
Manny: What do you mean ambush.....? You set us up.
Diego: I was my job. I was supposed to bring the baby, then....
Manny: You brought us home for dinner!!!
Sid: That's it, you're out of the herd!
Diego: I'm sorry.
Manny: No, you're not! Not, yet!
Diego: Give it up Sid. You know humans can't talk.
Sid: Diego!
Diego: Nine lives, baby.
Discussion Forum
Discuss Ice Age on our Movie forum!
News & Features